Alumni Blog: Bennett Elliott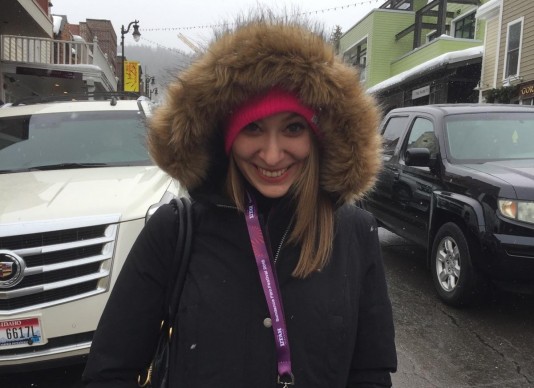 Emmy-winning producer, Bennett Elliott, just got back from Sundance, where a hybrid documentary-fiction she produced won the Special Jury Award for Writing. Kate Plays Christine, a true story, presented unique difficulties in production. Nothing our favorite pro can't handle.


The winner of the Sundance Special Jury Award for Writing, Kate Plays Christine is documentary-fiction hybrid, shot over three weeks this past July in Florida, with a tiny, close-knit crew. Although we the time and money to make a low budget fiction feature, the trick was to discover documentary moments that would make the film work. By definition, you can't make those moments happen and I don't think any of us knew where the story would take us.
In the film, we follow actor Kate Lyn Sheil as she prepares to play the role of Christine Chubbuck, a Florida newscaster who committed suicide on live television in 1974. The subject was already a tough one, but the most demanding part about working on Kate Plays Christine was probably that it had such unique challenges. Because I've never produced anything quite like this before, I had to adjust everything I knew on the fly to do what I could to help make the film a success.
While shooting, day-to-day production needs became less about gear pickups or casting callbacks, and more about creating an environment that allowed Kate to fully immerse herself in the role – while keeping everyone's sanity in balance. When the cameras were rolling, the mood was incredibly intense. We were absolutely transfixed by what was happening in front of the camera. It sometimes felt like we spent entire days holding our breath.
To counteract this very productive tension, we needed to blow off some steam — and I did everything I could to help make that happen. This meant always keeping coffee within arm's reach, putting breakfast/lunch/dinner on the table, being director Robert Greene's sounding board, organizing a needed game of Monopoly. We grilled, swam in the pool, went bowling, saw Magic Mike XXL. I was in charge of coordinating each upcoming shoot day with our NYC office, but because the film was such a head-trip for everyone, helping to organize these activities might have been my most important job.
Coming on board, the film already was somewhat intimidating because Kate, Robert and DP Sean Price Williams have been friends for over 10 years. In addition to finding my groove within this tight knit group, I had to constantly maintain a safe space for Robert, Sean, and Kate to experiment with structure, story, and visuals. As someone who has tried to keep one foot in narrative and the other in documentary over the course of my career, I was able to communicate with Kate in a way more indicative of how I would speak with an "actor" in a role rather than a traditional "documentary subject" – even though she was "acting" as both.
My job was to be the oil that kept this unique machine humming. Kate Plays Christine went on to be recognized at Sundance. We just had our international premiere at the Berlin Film Festival and we'll be screening at True/False and many other U.S. and international festivals before the film is released later this year. This strange trip with this strange movie is still just beginning and I'm so proud to have been a small part of its making.