Alumni Blog: Meaghan Cleary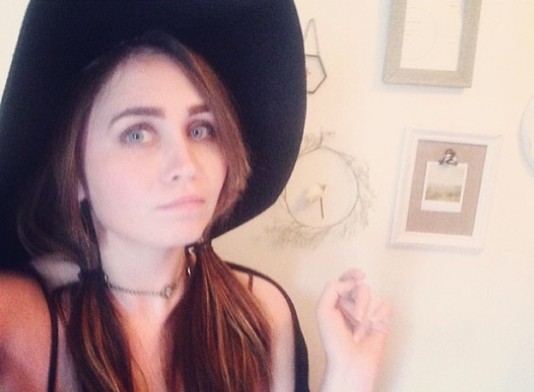 Update: Read Meaghan's latest interview with the WGA-East.
Meaghan Cleary's characters might be enchanted — or maybe life just sometimes works out that well. If you work hard and care as much as she does….
At the beginning of my college career, I was studying psychology. Human behavior is a fascinating thing I had always been drawn to. Growing up I had realized pretty early on that each of my friends had a whole universe inside of them; each complex, each beautiful in its own. So when I was pretty convinced I was going to be a psychiatrist, it was quite a shock to me (and it maybe shouldn't have been) that I found it emotionally overwhelming to be responsible for those universes. I was quite lucky when my best friend at school took me out to dinner with her friend from New York… She said, he's a film student at SVA, you guys will get along. We did and I was mad with jealousy when he explained to me what he was doing… In the next week, I quit school, had my application in and said goodbye to South Carolina faster than a firework on the forth of July. It was one of the best decisions I've ever made in my life.
When I got to SVA I was ecstatic. No more mud parties, no more yelling "don't drink the jungle juice" at my friends because I was with people who had a drive familiar I found within myself— it was an honest, open hearted drive that happened to be very giving. I explained to my friends back down south that I needed the stress of New York, there was so much I wanted to do and though time was plenty, it seemed of the essence. It is extremely of the essence because while you're in school you should be experimenting every minute— take advantage of your opportunities, the knowledge your teachers and peers have to offer, don't waste a minute to absorb and create all you can with it. Since my time at SVA I experimented with directing, production design, and returned to my love of writing. I split my time now with writing and production design and wouldn't want it any other way. I get to use my knowledge of human behavior now what feels like even more (at least more often) than when I was studying psychology. I not only get to understand these universes, but now I create them and make them full. And damnit, its the best feeling in the world too.
I always knew I had made the right choices in my heart, but it really paid off in measure when recently, I had the spectacular honor of winning SVA's Dusty Award for Outstanding Achievement in Screenwriting for my script, The Latchkey Kids. It was my first full blown comedy and possibly the most fun I ever had writing. The film is about two people who are looking for a fully functional family. My main character who is very mature for his age, Shae (9), thinks he is cursed because each babysitter he has ends up dying. He ends up meeting a young woman named, Aja(18), who is trying to relieve herself from working with her mother in the cocaine hustle. The two strike up conversation and a liking for each other and Shae convinces his mother to try Aja out as his babysitter. The friendship blooms like magic between the pair, though they have obstacles of course to overcome… I am now in the process of selling my script to some of the people I've worked closest with and will be doing production design for the film as well. I've worked hard and I can confidently say I've never been happier. On top of that, I'm in the midst of research for writing my next script, Tough Break— a epic romantic runaway tale in 19th century Ireland, that just might be a little bit funny.
Below are a few excerpts from Meaghan's Dusty winning screenplay.