Alumni Blog: Steven Cartoccio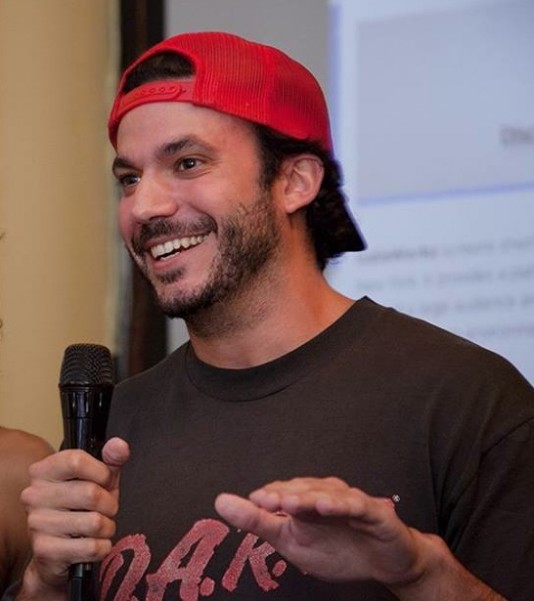 Two years ago, Steven Cartoccio (BFA Animation '12) shared the pilot episode of his animated series, Concrete Jungle, with us. Now, he's working on the fourth and final episode of the first season, with a larger cast and crew.
In 2014, I had just launched a Kickstarter campaign for my animated series Concrete Jungle. Thanks to a ton of support, the campaign was successfully funded and I am now in pre-production of the fourth, and final episode of season one of the series.
I've been able to work with some tremendous voice talents including John DiMaggio (Futurama, Adventure Time), Hannibal Buress, Godfrey, Open Mike Eagle and Krystyna Hutchinson. Dana Snyder (Aqua Teen Hunger Force) and Eugene Mirman (Bob's Burgers) are set to be guests on the season finale.
In addition to guest voices, each episode has a guest musical feature and original song. I hope to compile all these tracks into a Concrete Jungle soundtrack at the end of the season.
I've linked up with Pierre Cerrato, an editor on Archer — a series that (along with Frisky Dingo, also created by Adam Reed) has been a tremendous influence on Concrete Jungle. Pierre helped improve the timing and pacing of episodes.
This year, I started Concrete Jungle Studio, which produces the web series, various freelance animated shorts, as well as music videos, digital sculpture and collectible figures. My first collectible, Frankpool (a mash-up of Deadpool and Concrete Jungle's Frank the Bulldog), will premiere at New York Comic Con as a limited run of 100 figures.
I am building Concrete Jungle's brand by creating art in multiple mediums with these characters – most of whom I developed in my thesis film at SVA. The main goal is still to bring the animated series to network. With this fourth episode, and a completed first season, I feel I have a story and a world of characters ready to pitch.
I will be displaying sculptures at New York Comic Con, booth 309 and Concrete Jungle will screen at this year's NYC Web Series festival in November. See you there!
Check out Steven's work on Concretejunglestudio.com