Dusty Winner: Alejandro Cortés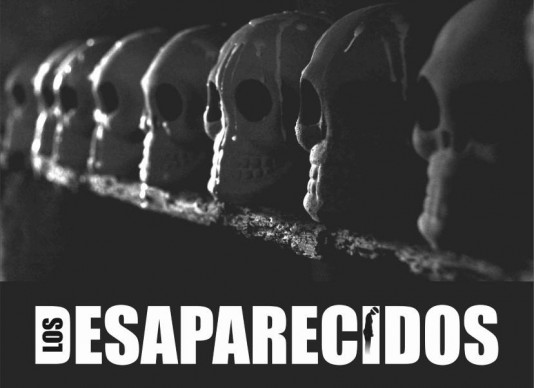 Los Desaparecidos, 2017 Dusty Award winner for Outstanding Film, is the most personal film yet made by Alejandro Cortes, and the first he has made in his native Mexico. 30,000 people have disappeared in Mexico since 2006 — a shocking, heartbreaking story that hit very close to home.
This isn't the only film Alejandro made this year. He also shot a feature, and a webseries. Learn more about those experiences

tomorrow

.
Last year I had a professor named Meir Gal for a class called Radical Interventions. The class is about the responsibility that one has as an artist to create content that generates social discussion. Meir encouraged me to push my boundaries and think of this profession as a commitment to talk about what's going on in our world.
I had completed a feature film called And The Boys Go, and a pilot for the web series After Oil (Dusty Award winner for Outstanding Screenplay), and I wanted to use the rest of my time at SVA focusing on something that felt more personal to me, and that I could do in my home country, Mexico, because everything I've learned about film thus far had been in the United States. I've always known that Mexico is a goldmine for filmmakers, due to its beautiful landscapes, people and culture, and I really wanted to include the context of Mexico in a story that would be tough to watch, yet beautiful and hopeful. Basically, I was interested in capturing the juxtaposition that my beloved country has become. So I contacted an old friend named Justo Matías, who lives in Mexico City, and I asked him to join me in this process of creating something that matters in our world.
From 2006 to 2016, 29,917 people have reported disappeared in Mexico. These numbers are just official records, so only God knows how much more it is in reality. This is simply heartbreaking and unacceptable. Justo and I have experienced the very shocking experience of having a loved one taken, and this was definitely a personal motivation to talk about this issue, but regardless of that, this was something we both agreed was worth talking about.
We put together a very talented crew in Mexico and it was the most difficult challenge I've ever had. As a creator and producer, I was constantly in touch with Justo, who has a brilliant mind and together we designed the script that he wrote. We gave 100% to the process, even though we were short handed and things became really hard at times. We managed to come together as a team and with some luck, we were able to create something very special. I am still not over the experience and I find myself reminiscing about my time in Mexico, when I was surrounded by so many amazing and hard working people who were driven by a passion to tell stories. It taught me so much, and as hard as it was, I am glad we were able to overcome every obstacle together and in the process create a new family down there.
It is an honor to have received the Dusty Award for Outstanding Film, and it was even more special to receive it from the talented and amazing Reed Morano, who I admire a lot! This experience made me a better filmmaker but more importantly brought me closer to my roots and my country. In times of political chaos, I hope we were able to make our voice count and demand a change. This is a project from the heart and with the hope of inspiring new dialogue and shift the worldview of our society.
The short tells a story of a single mother named Lourdes who lives in a small town in Mexico and has been looking for her son, Arturo, for a year. Despite the constant rejection from the authorities and the pressure from her religious beliefs, Lourdes is forced to take desperate measures in order to find her son. A truly heartbreaking story that I believe deserves to be told.
I couldn't have made this without the incredible amount of support received by my family, who were involved in the creation of this film. To the crew in Mexico for their amazing job. To the talented cast that did an excellent job. To Justo Matías for being there always and bringing our vision to life with me. And to the people involved from NY and SVA: Paula Cury and Tatiana Rivera (SVA Students) for coming down with me and paying for their plane tickets, for the help of my dear friends Nicolas Lopez, Dharius Zulkefli, and the talented Alex Boskovich, and the support by the faculty: Dejan Georgevich, Joan Brooker, Frank Prinzi, and all the professors I had in my time at SVA. It has been quite a ride, and I'm looking forward to the future!
After four years of college, I find myself giving a very important step towards what people call "the real world." I'm very inspired by the people I was fortunate to learn from, and I feel lucky to be a part of a very close community of talented filmmakers. I have made friends in and outside of school that are actively working in the industry, and I'm excited to start this new stage as a freelancer and develop my career professionally. At the end of the month, I'm going to Los Angeles to SVA Premieres to show my thesis film, and I hope to meet a lot of interesting people that will help the film's future.