Dusty Winner: Julia Anquier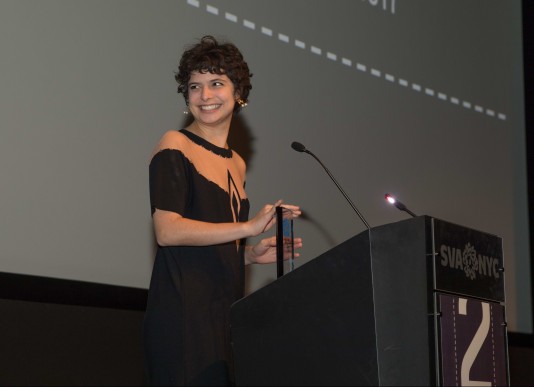 IFP Award winner Julia Anquier looks to correct misrepresentations of feminine friendship with her thesis film, Farewell to Flesh. Set in her home city of Rio de Janeiro, her film cuts right to the point. 
Making a film is making something out of nothing. It begins with an idea, so we have been told. In the process of making Farewell to Flesh, I have many times tried to pinpoint where and when this film begins and ends in me. I cannot find those coordinates.
This movie wrote me, it shot me, it cut me and it finished me, not the other way around. I have never experienced such an organic creative process before. I believe this is what happens when one tells a story one really cares about, with characters one cares about, in a place one cares about. It was crucial to me to go back to my country (Brazil) and especially my city (Rio de Janeiro) to shoot this film.
When I began to write, I had nothing but strong feelings of joy, anger, injustice — and excitement. I had no story, no characters, no set up, but I knew somehow I had a film. I needed to tell a story about real girls, real young women, to correct the misrepresentation of feminine friendship in the media, especially on the Internet. I have always been surrounded by strong women such as my mother, my second mother who raised me, my aunt, my grandmother, and all my girlfriends who inspire me to be free in life and work.
I also really wanted to represent my city that is so dear to me. I began putting images and sounds together into a timeline and spent days editing these collage videos that started making sense of a mood and a story that was desperately trying to get out of me. I wrote the script in three days and immediately started pre-production while working on the next drafts. When I got to Brazil, I already had a small crew together and we were ready to start working immediately
During pre-production I realized my movie was much more complicated, expensive and demanding than I had anticipated. My mother's apartment became a full time production house. There were racks and props everywhere; the living room was converted into an office and ten people came in to work daily for over three weeks. We started on a Monday with the scariest sequence of the whole movie: street party during Brazilian carnival. We had one night, no professional extras and lots of trouble to run into. But, we did it! And that's how it went every day, overcoming our fears and dodging lots of bullets.
I kept asking myself why I had written all of those water scenes, party scenes, and beach scenes… None of that would have been possible without the extraordinary work and dedication of the whole cast and crew. It was an unforgettable experience working with every single member of the team. I am extremely grateful to everyone who worked on this movie. I have trouble calling it mine because it truly is everyone's.
It felt very lonely when production ended. The living room was empty except for three hard drives staring at me. I didn't have the courage to look at the footage for almost two months. When I finally did, it had to be very slow, taking many breaks to breathe and remind myself that editing would make it work.
I have now understood that editing is the most painful process for me. It is when we face all of our mistakes, when we see all our worries come true and our expectations, crushed. I dissected all of my decisions inch by inch. I felt I was in total darkness with only the hope of light. It was hard to imagine seeing the sun again (quite literally). Thankfully, editor Quintin Harris brought a new perspective to the work; a much more concrete and methodic view of editing where I had only a loose, associative vision.
Working with Quintin was an incredible learning experience, a tour de force. He gave the movie some much needed heft and definition, and made this otherwise excruciating process, enjoyable to me. Because of the schedule, I had to finish the cut with another editor, PJ Maia, in São Paulo. His unaffected, fresh look at the footage solved problems we had given up on.
The other processes of post-production were very intense and surprising. When I sat in the studio with composer Pedro Tambellini to discuss the original soundtrack, I realized I could not explain my vision and what I expected from him in words. It was similarly difficult with color correction, and sound mixing and editing. It's a universe of sound, sensation and image that I had not dared to enter before, and I had to learn to navigate. Luckily, I was surrounded by talented colleagues and mentors. It was a bumpy ride but eventually I figured it out.
When I came back to NY with the finished product and sat in the SVA lab to show it to Quintin, I was instantly back to the day I started writing — listening to heavy umbanda drums, watching the little collages I had made… I realized the movie that was before me was exactly the same the movie I put on the paper that day. That felt good.
A week before the Dusty Film Festival, my film was accepted into a film festival in Portugal. That felt good, too! And I can't even express how it felt to be able to show my movie to my friends and family at the SVA Theater — and to win the IFP Award at the Dusty ceremony. Amazing, wonderful, crazy.
This week, while cleaning piles of paper and going through my school notebooks, I found a two-page scene I had written in freshman year. It was about three girls in Rio, at a party at which there is an unfortunate event. For those of you who don't know it already, Farewell to Flesh shares the exact same synopsis. I guess we really never know where and when a film begins, it just is. It is there, waiting to burst out in a moment of creative madness.