Dusty Winner: Joe Sulsenti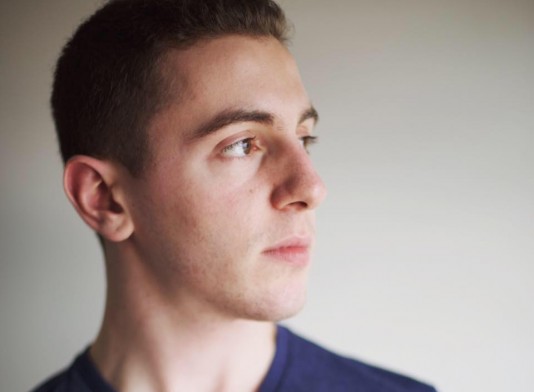 UPDATE: Fishy wins Best Animated Short category at the PSIAF Palm Springs International Animation Festival.
Animator Joe Sulsenti took home TWO Dustys this year (Outstanding Achievement in Character Animation & Outstanding Achievement in Animation Production Design) for his very funny and surprisingly emotional film, Fishy. Here, he passes along his advice to incoming SVA thesis animators – and offers a few life-lessons for everyone.
One of the most important lessons I've learned as a student studying animation at SVA is that the amount of hard work you put into your art directly correlates to the success you accumulate. Animation is an extremely tedious process that demands focus, attention, and time in order to do it right. Those long, 17 hour days spent trying to make a horse walk correctly, a ball bounce across the screen naturally, and a frog leap from screen right to screen left — all eventually lead to a complete animated film form start to finish.
Another important lesson I've learned at SVA is that animation has an unprecedented power to move people and open their minds to new ideas and concepts. When I was thinking up the idea for my thesis film, I knew I wanted it to be meaningful to me and moving for other people. My film, Fishy, is about parents having trouble accepting their own children for who they are, and the damage that can cause. Growing up, I was lucky enough to have parents who accepted the fact that their son loved playing with girl toys. Unfortunately, that's not the case for many children; they are forced to suppress their feelings and are denied their full potential for happiness.
I wanted to send a message to kids that there's power in being yourself – even if that means being different from everyone else — and a message to parents explaining the importance of encouraging their kids to do whatever makes them happy. I've heard too many stories of young kids being thrown out of their homes, cut off from their families, even disowned by their very own parents, simply for being who they are. Some of the people in my life that I hold close to my heart share similar stories. They have been a major motivation for me to create this film.
Creating Fishy was no easy task. The most important thing for me was conveying the message clearly with quality character animation and production design. To pack the emotional punch I wanted, required me to bump up the length of the story to around six minutes, the longest film in my class from a one-person team.
The amount of work I put into this film is actually insane. It is a true test of what I was capable of achieving. In order for me to finish on time at the quality I wanted, it was imperative that I start the overnights early on in the year. I found myself alone in the studio most nights which was perfectly okay because I was able to blast Lana Del Rey and dance around without embarrassing myself. Also, reaching out to the right people to help me finish up was a huge part of the process. I couldn't be more grateful to the team that helped Fishy come to life.
All that extra time and effort paid off. After screening my film at the Dustys, the audiences' response made me cry tears of joy. That's the best feeling a filmmaker could ask for.
The hard work resulted in many animation studios, including Titmouse, Hornet and Cartuna, reaching out to me with possible job opportunities. Super exciting! Fishy was also chosen to screen in the main screening for SVA Premiers! I was flown to LA, met industry professionals and attended studio tours at some of my dream work places. I couldn't be happier with how everything has turned out post-graduation.
If you have something to say and work your hardest ever to say it, it can go a very long way.