Faculty Blog 6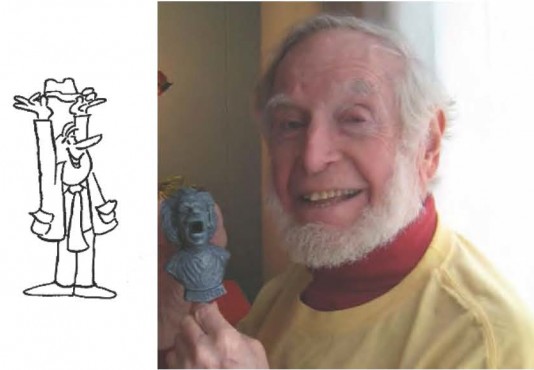 This week Animation faculty Howard Beckerman writes a touching retrospective of his work in animation, how it has changed over the years, and the advice he has for student animators.
I learned how films are made from my experience on the first story I sold to UPA Pictures. It was for a segment of the very first full color animated show for children. It was 1956 and it was "The Boing Boing Show." Phil Moore was chosen for the music, he did music for Lena Horne's nightclub routines and also was the voice of one of the crows in "Dumbo". George Dunning came from Canada; he was the director. He went on later to do "Yellow Submarine." The great bass player Milt Hinton was one of the musicians. They took my board and changed it. It was called "Two by Two" about Noah's Ark. In the theater a playwright's play is what you see on the stage, it's basically the same, it doesn't get changed much, unlike movies. Dunning redesigned the look of it, Moore wrote lyrics and composed music for it. I animated it.  Each person contributed his own expertise, and that's why it looks professional. It's all in the service of communication.
Now computers have come on to the scene, and where prior to this time computers weren't good enough to do cartoons, they could, however, handle the effects. It took about 15 years of finessing the computer programs to be able to animate "Toy Story.
What students must learn is that an animator, like Arthur Miller's Willy Loman character, goes to work with a smile and a shoeshine. But unlike Willy Loman the animator is a contributor to the final product, not a one-man show. You have to learn to communicate.
Once there were 1 and a half books on animation, now there are a thousand books and students don't read any of them. Animation is all about communication. Students don't realize you have to communicate with others, they're in their own world. They don't realize you don't do it all by yourself. At the theater they walk out on the credits. They fall apart when they realize they need someone for music, editing and all the parts to be assembled, they are so happy doing their own thing. It is a job like any other, you apply what you know usually with a tight budget and time constraints. You've got to do it even though you don't think you can do it, you've got to pull it out of a hat.
Computers allow for a great deal of latitude. They let you change things faster. In the old days, you had to animate it, shoot it, send it to a lab, get the film back and reanimate. Now an 8 year old can make a movie on a computer in the family living room without making a mess. The computer is not too smart on its own, you have to use your brain.
The students don't put their names on their work. Disney put his name on everything, even things he didn't do. Students have to see themselves as important in the creative process. It comes back to communication. We communicate with everybody in the production process in order to eventually communicate our animated story to an audience.
View Howard's own faculty bio here!