Faculty Blog: Valentina Caniglia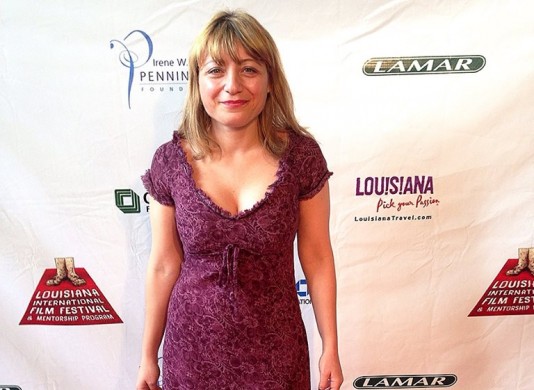 Faculty member, Valentina Caniglia, shares her experience as Director of Photography on The Dark Side – an award-winning new film that juxtaposes the overwhelming reality of Hurricane Sandy with the humorous relief of a love story. For every lover caught between a rock and a hard place, and every human stuck on the third rock from the sun with out-of-control climate change.
Filming The Dark Side was a completely new experience for me. It was the first time I, as Director of Photography, had to integrate a documentary style with a narrative fiction look. I had to have a two-way to approach: using a documentary style to go with reality, and a narrative fiction style for scenes where I had to create the lighting, framing, and camera movement to go with the state of mind of the characters in the script.
We started to film during Hurricane Sandy, and went to places like Breezy Point and the East Village, where there was complete darkness. There, my approach as a cinematographer was: How dark I can push and still see and translate the script into compelling images that convey the story?
When we filmed the narrative scenes, I could light and approach the situation differently; taking a painterly point of view with the light and dancing with the camera.
On the one hand, the director and I decided to go to places where Sandy had destroyed everything to get images and interviews with the firefighters who became part of the story. On the other, I had to work with actors and reveal the inner fictional narrative of the story. It was great combining these two mindsets; I'd have to come up with ideas and solutions on the fly in one part of the film, and then plan it all in the other part. I decided to be deeply involved in both so that the audience would never feel the camera between them and the story. It was like the camera and I merged into one thing, real and surreal in the same time. I like the idea that I was able to adjust in every situation, and still tell a story visually with creativity.
It was amazing to work again with talented actor Fred Melamed (the first film we worked together was Fred Won't Move Out, with Elliott Gould). He such an impressive range of professional experience, having worked with great directors like the Coen Brothers, Robert Altman, Ridley Scott.
SYNOPSIS:
When the lights go out during Hurricane Sandy, Dan falls and accidentally butt-dials his ex-girlfriend. Her name also happens to be Sandy. He takes it as a sign to visit her. Mimicking the hurricane's capacity to cross boundaries, interviews with firefighters who lost their homes during Sandy are intercut with this romantic comedy. The resulting clash of genres creates unexpected juxtapositions that illuminate both the global and local dimensions of the storm

Tue November 17th 8:30 pm
In order to attend this event, purchase your ticket in advance following this link: https://www.tugg.com/events/76578