Faculty Blog: Deborah Ross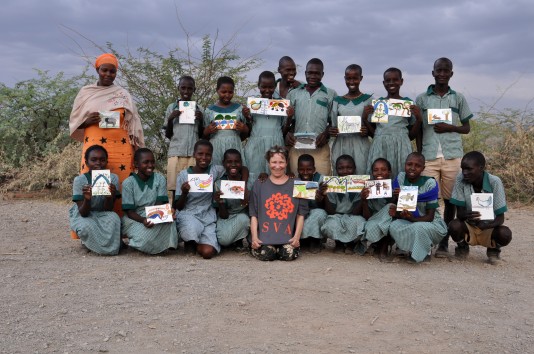 Deborah Ross teaches an animation class that goes to the Bronx Zoo every week to study animal movement using watercolor. Here, she writes us from Kenya where she brings some of the lessons of her workshops to Africa.
My professional life as an editorial artist, for both scientific as well as popular publications, has often provided the framework for my personal vision as an artist. I first traveled to Africa in 1987 to further research a commission to illustrate a book on baboon behavior. The landscapes, the people and the animals inspired me. This experience opened the door to my long-term vision and commitment to Africa and to conservation – and using art as a tool to empower awareness. I have dedicated my life to exploring and championing the natural world through art.
In my Animal Drawing classes in the Animation Department of SVA, I require my students to immerse themselves the wilds of the Bronx Zoo's naturalistic animal exhibits and to document their observations in watercolor visual narratives.
My approach is the same in Africa. Since 2005, I have been running watercolor workshops in remote villages in Africa.  The children I meet refer to the workshops as the "Painting Club," because the activity has become the center for connecting generations with each other – the elders tell their stories and the children capture them in art.
This summer, I am in Kenya working in the 3 schools within the Olkiramatian and Shompole Maasai group ranches in the South Rift, as well as returning to Il Polei Primary School in Laikipia, where the "Painting Club" first came into being in 2008. One goals of the project is to facilitate the local students in publishing a painted guidebook to their local natural resources. In 2011, we produced a beautiful book — Olcani, An illustrated Guide to the Medicinal Plants of Kenya – which features the children's watercolor descriptions of their medicine plants. The children's painting will be exhibited throughout Kenya as a traveling exhibit.
The African Conservation Center in Nairobi is sponsoring my workshops in Kenya. It is our hope and ambition that art will be recognized as a valuable component in a child's education, and the workshops will encourage the government to give art a place in the permanent curriculum of Kenya.