Faculty Friday: Dejan Georgevich, ASC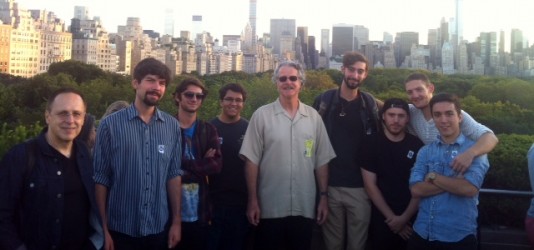 Dejan Georgevich, ASC's Master Class in Cinematography gives students an opportunity to meet and learn from some of the most extraordinary people behind the camera. Take a look:
It's been a busy and stimulating fall semester for students in my ASC's Master Class in Cinematography class.
The Master class started the semester with an analysis/discussion tour of 70 selected paintings at the Metropolitan Art Museum featuring the works of Rembrandt, Vermeer, George de La Tour, Caravaggio, Charles Bargue, Thomas Eakins, Edward Hooper, Gustave Courbet, and John Singer Sargent to name a few.
The course is designed to challenge thesis cinematography students to refine their lighting skills by studying and reproducing scenes from Grand Master Paintings. Looking at the works of these masters, and how they used painted light to inform the stories of their subjects helps inspire cinematographers with the light they use in motion pictures.
The past few weeks have provided a unique lineup of distinguished and renown cinematographers, sharing and demonstrating their philosophies of lighting design. Cinematographers including Sean Bobbitt, ASC (12 Years a Slave, A Place Beyond the Pines,  Shame, Hunger); Frank Prinzi, ASC (Blacklist, Law & Order: CriminalIntent, Best Man); and Vanja Cernjul, ASC (Orange is the New Black, City Island, Bored to Death, 30 Rock) have all visited. Also, John F. Davis, storyboard artist and illustrator for over 70 major motion pictures, captivated the class discussing and demonstrating his expertise in visual storytelling with his storyboards followed by screening excerpts of Skyfall, The Departed, Salt, Doubt, and The Great Gatsby.
Meanwhile, students participate in lighting exercises evoking the Grand Master paintings. It's a special workshop opportunity for students to challenge themselves by exploring the nuances of composition, color and the direction of light that creates drama, mood, and emotion that contributes to effective storytelling.