Freshman Focus: Sarah Myers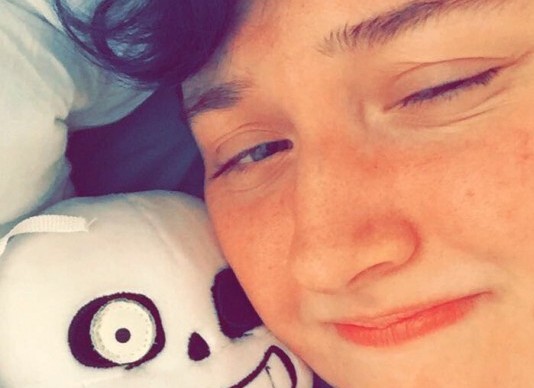 "Freshman Focus" is a collection of articles from upperclassmen sharing what they wish they knew freshman year. The goal of this series is to help the incoming freshman with tips, tricks, and inspiration for their journey ahead. To start us off we have Sarah Myers! 
My name is Sarah Myers and I am a third-year student in the BFA Animation program. I often think about my time at SVA, since it has become one of the main parts of my life. Being here is important to me! It has been a positive experience overall, and I have definitely grown as a person. I've learned a lot from my professors and friends. With their support, I was able to live in an entirely different environment from what I'm used to.
I wanted to share some of what I think are the most important things I realized in my time here so far.
First, you don't need to stress about your work being perfect!
Chances are you will still stress, but try your best not to. I struggle with perfectionist routines and being extra hard on myself when something doesn't turn out right. It was especially difficult my freshman, feeling like I could never be good enough. Until SVA, I had never been to an art school or taken many art classes before. I had never realized how important figure and gesture drawings were to practice for what I want to do. I beat myself up for not knowing any better before, and a lot of the time I internalized it.
If you feel similar, or feel like you're not good enough, take that train of thought and try to work on bettering your skills. Sketch a ton or write how you feel. Sometimes it's good just to keep your arm moving with small drawing exercises. Draw lots of shapes, since those will be the foundations of your characters and props.
If I couldn't focus on working right away, I would try to listen to music or watch something. Finding new music, watching a variety of shows, and attending SVA Theater events were good choices. I've taken bits from everything that I liked and have tried to channel that into my art.
I wish I could've kept in mind that not everything I make at school has to be a finished masterpiece. There will be good and bad art days. You should always try your best, but it's a lot of pressure to be your best self. Especially in a big city where you're sometimes lost in the crowd. At some point you need to focus on serious portfolio work… but you have to start somewhere.
Your style and approach to art is probably going to change each semester! There are many parts to the animation process, and you don't immediately have to figure out what you want your focus to be.
Let your art grow, and be true to how you feel about it. It's really rewarding when you get to see everything coming together.
It's also really important to take care of yourself! Please!
You need your hands! And your back! Watch your posture! A professor of mine would constantly remind us to straighten up as we were drawing. It felt better to stretch, but you don't realize what weird positions you twist yourself into sometimes.
This summer I broke my dominant wrist, and it was immobilized for about a month. There were a lot of simple movements that I took for granted. Something as simple as holding a pencil was very difficult for a while. Even though it was really upsetting not being able to work or draw, I realized I had never really gotten a chance to take a long break from anything. It basically gave me a new perspective. Once you've reached your limit, you need time to heal. And you can't rush the process. By the time I got my cast off, I was feeling energized, relieved, and ready to draw again.
I am in no way saying that you should go and break your wrist, but I want to express the importance of giving yourself a rest. Even if it's just a weekend. Keep your hands healthy! Especially animators; we're literally drawing all the time.
Treat the rest of yourself with respect, too. Mental health is really important, and I wish I had always kept that in mind. Burnout can happen, but pacing yourself and sometimes doing activities other than art can help.
If things are getting too stressful, reach out to a friend, or even the therapists on campus. If setting up an appointment is too much, it's okay to ask someone to help out. I have been there too.
Make sure you're eating (even a little junk food is better than nothing), take a nice long shower, revisit something you liked in your childhood to refresh inspiration. And I definitely recommend timed naps.
More importantly, you don't need to pull all-nighters all the time!
I'm not trying to point fingers, because I've done it myself. I know that some people prefer to work at night, but if you are rushing and overnighting too often, burnout is bound to happen. It's not always easy to recover from either.
I wish that I had learned how to manage my time better. Lack of time management is why I was pulling all-nighters in the first place. It took doing a lot of overnights in the lab to realize that I should not be doing them. And As you become an upperclassman you realize it is impossible to do all your work in one night!
A suggestion is to reassess your workload and plan out a realistic schedule to stick to. Break it down into manageable bits, per day or per week, and set goals for yourself. Be flexible, and expect that things can change. Even if it's more manageable, your idea still might need to be cut down. Timing out your scenes takes practice.
In the end, I think it all takes practice. Sometimes you won't know about something without discovering it for yourself. The best thing to do is to remember your resources at hand and recognize that others may be going through the same stuff, too. Your art and experiences are unique. Just have fun!