SVA Screening: Resist & Record: Activist Films from the Modern Era of Protest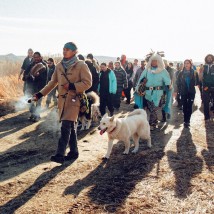 The Social Documentary department is presenting a program of activist films from the modern era of protest. You can see some of the work the SVA community has made surrounding the last few months of protest: Standing Rock, Women's March, Yemeni Bodega Strike, Funeral for the Presidency, and the general tenor of resistance.
Many filmmakers present for Q&A. Revolution, Tea & Cookies to follow the screening. Full Schedule below.
Rose Vincelli Gustine, SVA's SocDoc (MFA) Director of Operations, speaks to us about the upcoming screenings.
Talk of resistance and protest has ignited in a new way in recent months, and in my role as an advocate and advisor for filmmakers, I have felt the need to create a platform for our student's voices to be heard. Over coffee one morning, my fellow SocDoc faculty Deborah Dickson, Micah Fink and I decided we had to take this opportunity to activate our department. Not to require action – but to inspire it.
We are a "social" documentary program after all and this is the time to be an active participant in our politics.  With one click of an email gauging interest in creating short stories of protest, the students were off and running.
I feel very excited to have the opportunity to stoke the activist hearts of our students and to inspire them to find their way to protest.  By building upon our already tight filmmaking community, we can be heard and we will be heard, starting with our first ever protest film series— Resist and Record: Activist Films from the Modern Era of Protest.  Join us Monday, March 20th in the SocDoc Theater from 6pm to 9pm and join the conversation!  Be sure to RSVP as seating is limited. Hope to see you there!
–Rose Vincelli Gustine, SocDoc Director of Operations
Political Animated gifs by Louisa Bertman
"Best of Luck with the Wall" (2016)
By Josh Begley; Run time: 7 minutes
A voyage across the US-Mexico border, stitched together from 200,000 satellite images. (Courtesy of Field of Vision)
"Death of a Presidency" (2017)
By Caroline Berler, Rebecca Benson and Melanie McLean Brooks; Run time: 3 minutes
On a sunny Saturday over Presidents' Day weekend, Gays Against Guns artist & activist Jay W. Walker leads a New Orleans-style funeral procession in New York City. Mourning the death of the Presidency, he and hundreds of collaborators use performance art as political action, expressing their opposition to Donald Trump's policies. (SVA MFA Social Documentary)
"See Me Protest, Hear Me Roar" (2017)
By Lifei Diao; Run time: 5 minutes
Combining footage from two important NYC-based protests, the Women's March in January and the General Strike Protest in February, this film profiles the different characters who have come together to oppose the recent Executive Actions of Donald Trump. (SVA MFA Social Documentary)
"White Buffalo Calf Woman" (2016)
By Jessie Adler; Run Time: 5 minutes
In resistance of the Dakota Access Pipeline, Ursula Aldrich-Young Bear leads a prayer walk to the police blockade on North Dakota Route 1806 outside of the Oceti Sakowin Camp. Recalling White Buffalo Calf Woman, a sacred Lakota omen of change, Ursula calls on the women of camp to honor traditional tribal gender roles and lead the fight to protect the water. (SVA MFA Social Documentary)
"Women's March, NYC" (2017)
By Atarah Jeffers; Run time: 3 minutes
This short film covers the enthusiasm and diversity showcased in the faces of those who attended the historic Women's March of 2017. (SVA MFA Social Documentary)
"Yemeni Bodega Strike" (2017)
By Bella Racklin and Rooj Alwazir; Run Time: 3 minutes
On February 2, 2017, the Yemeni owners of over 1000 bodegas in New York City went on strike – for the first time ever – to protest President Donald Trump's "Muslim Travel Ban." (SVA MFA Social Documentary)
"Women's March on Washington D.C." (2017)
By Hannah Nordenswan; Run time:
"Women's March on NYC" (2017)
Photographed by: Alexander Bliss, Alex Echevarria, Nicco Joseph, Ameer Kazmi, Chris Lawless, Miwa Sakulrat, Godfred Sedano; Edited by: Godred Sedano; Color Correction and Sound Design by: Chris Lawless; Produced and Directed by: Joan Brooker-Marks; Run time: 5 minutes
A day at the Women's March. (SVA BFA Film)
"Theo Mighty" (2017)
Directed, Produced, Edited by Donaiko A. Joseph; Run time: 4 minutes
Theo Mighty (25) spends most of his time painting narratives of black people in America. His artwork highlights both police brutality and also the beauty and culture of black people. (SVA BFA Film)
"Concerned Student 1950" (2016)
A Film by Adam Dietrich, Varun Bajaj and Kellan Marvin; Run time: 32 minutes
A series of racist acts prompts three University of Missouri students to pick up cameras and take us inside Concerned Student 1950, the student movement whose peaceful protest brought down the college president. (Courtesy of Field of Vision)
"Utica" (2016)
Nadia deLane; Run time: 7minutes
This video is about thought. (MFA Visual Narrative)