Go SVA Pride 2018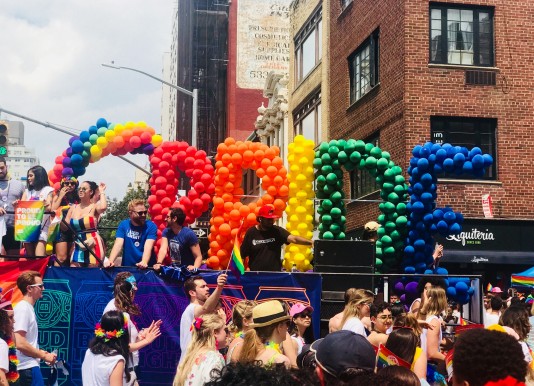 Pride is a time to celebrate everyone's differences and bring us all closer together. A highlight of Pride month is the Pride Parade, held on the last Sunday of the month. 
Here, FLIP SARTA asks SVA students to share their NYC 2018 Pride experiences.
Max
"My first pride was kind of a disaster. I lied to my mom to leave and ended up being a part of the parade. Or rather, I was supposed to be. Until I got heat stroke and vomited in a nearby St. Louis City trash can and was subsequently driven home.
Safe to say, this pride was my first real pride experience. I went with no expectations other than people I knew I could be comfortable with. We live in a world where you don't know whether or not the person next to you is going to hate you for existing. For loving. For being. During the parade I was able to not have the weight of discrimination for just a moment. I wasn't afraid. I wore my hat with a rainbow on Gay Street without shame. The comfortability of being surrounded by your own kind is incredible and is essential to us within the LGBT community. We can show off for once and celebrate ourselves. Something that is difficult to achieve out of our designated spaces. Pride is for Us."
Ryan
"For the past few years, I've attended Pride for one simple reason: it's the happiest day of the year. I'll go every year for that reason alone. The fact that anyone is invited, gay, straight, bi, whichever gender identity, no matter what race, is the reason this might just be one of my favorite days of the year. This is how EVERY day should be, but I guess with one day, we're getting somewhere. I went with a diverse group of buds and we had a great time, as was expected. For most of them, it was their first pride and the look on their faces the entire day; priceless. Endless smiling and laughing with no judgment whatsoever. It's probably the one day that people can truly be themselves."
Annah
"My friends and I had been excited for Pride for months, especially since most of us have never been able to go before. We woke up early, walked over to Washington Square Park, and were lucky enough to get a spot right along the Parade route where we could see everything! But the best part of Pride is the environment. People felt comfortable expressing themselves, wearing whatever they wanted, being with whoever they wanted, and everyone was super polite to us. One of the men we stood next to during the parade even made sure we could all see. You just get the feeling that everyone there is ready to support one another, which is why my friends and I will definitely be going again!"
Sara
"The first time I saw the Pride March, I was eight years old. Since then, I knew I wanted to march in the parade; but I had no idea how it was going to happen. When I became a journalist, I'd asked to cover Pride, only to realize that I didn't have NYPD press credentials. I registered in March a few times, but was struck by medical misfortune. In 2017, I finally got my NYPD credentials; yet I had to watch from the sidelines. I was in agony from an old injury. This year, I was determined. Yes, I had to go back into physical therapy again, but it was the last straw. I prayed, give me 4-5 good hours to run the route, let me work my journalism magic. I did it! I showed my NYPD Press Credentials; walked through the barricade, then shot the breeze with the top dogs, press photographers from The New York Times, The Advocate, etc. As the action started, I got a piece of advice, "Don't overthink it. Just dive in!" That's what I did, I was out in the sunshine and shooting photos of marchers. I was happy; childhood moment achieved. It was the best day of my life!"
Chris
"I went this year for the first time, despite already identifying as some kind of queer for a decade. I showed up 30 minutes after waking up and seeing that the parade was just 2 stops away on the train. I went by myself, despite knowing at least 5 other friends would be attending. This time felt special because I happened to be in the city already and I've been out and increasingly more comfortable with my identity these last 20 months. This time felt especially different as I identified as on the male side of the gender spectrum and I very recently became physically intimate with a queer guy. I've never felt so affirmed in my gender until recent.
Going to the parade and seeing trans flags being proudly flown alongside rainbow flags was amazing. I come from a conservative family,  so I often heard remarks about how lewd the parades were. Whether it be from a family member or from Fox News; that has been playing for 15 years in my parents' home. Attending the parade while feeling liberated in my sexual identity and gender identity was empowering. I didn't have to feel ashamed of a single thing, other than feeling shame for not wearing sunscreen and leaving that parade 5 hours later as a freshly steamed lobster.
The parade was a celebration of having fun and not being ashamed of anything.
I also had a few short conversations with others in the crowd and even got hugs!
I never felt so safe and accepted and visible, yet invisible. As a trans person, I want to be seen as any other person but sometimes I feel like an elephant in the room. At this Pride March, I didn't feel like that. I felt a full sense of being supported and loved by the millions who attended even though almost none of them know I exist.
I feel like this year's parade was especially important considering the current division in our country. We need this love and support and positivity and inclusivity in such uncertain and stressful times."
Below are photos of Chris's Pride experience!