Student Blog: Alexa Payesko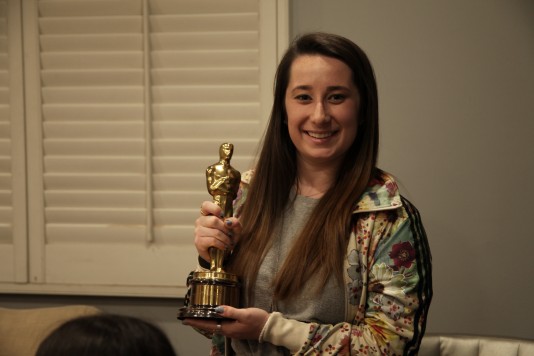 Thesis documentarian Alexa Payesko in LA. She shares some of her favorite moments from the SVA in LA trip – where she and others met with many extraordinary SVA alumni.
SVA in LA
For the longest time, I have wanted to visit Los Angeles. I am so lucky to have been chosen by Sal Petrosino to go on the trip. I fell in love with the West Coast and I can't wait to go back after graduating. It has inspired me to work harder and believe anything is possible, if you're passionate about it.
March 5, 2017
I arrive in Los Angeles Sunday morning, drop my bags at the hotel, and immediately request a Lyft to see the city – starting with Hollywood Boulevard. I meet up with Linnea, a first year film student, and we walk the entire Hollywood Walk of Fame, ending at the famous Chinese Theatre. For lunch we decide on In-N-Out Burger! It was pretty good, but Shake Shack is better.
March 6, 2017
Today is the first day meeting industry professionals. First up: Patrizia Von Brandenstein, Oscar-winning production designer (Amadeus, The Night Of). She takes us around the lot of the hit show, The Last Tycoon. The sets are absolutely incredible! I love hearing her speak about bringing scripts to life. She takes us from stage to stage, and shows us dailies from the most recent episodes. She shares how she got into the business, reflects on people she's met, and how all of these experiences lead from one job to the next. I am inspired by how humble she is, even though she's so successful.
March 7, 2017
Day three: We meet a Hollywood mega-producer, Randall Emmett, at his studio office. He tells us how he got started in the industry after graduating from SVA by putting in as many hours as it took. Now he has produced films for Martin Scorsese, Mark Wahlberg, and Werner Herzog. He gives us a tour of his building and we meet actor Kevin Connolly (Entourage), editing his new film.  Kevin talks about the huge role post-production. He is a super down to earth person, and gives us a sneak peak of the new film, The Life and Death of John Gotti, starring John Travolta.
Later that same day, I am just a few feet away from Oscar-winning composer, Michael Giacchino (Up, Star Wars: Rogue One). He lets us in on his method for composing the music for each film. I'm in awe listening to how  his music guides the story. An artist since childhood, he tells us to trust ourselves.
March 8, 2017
This morning, Linnea and I decide to hike to the Hollywood sign. The weather is beautiful and I dread going back to NYC's freezing temperatures.
Next, we visit Framestore, a post-production house. Their work is incredible, and includes: Fantastic Beasts and Where to Find Them; Samsung; and Geiko. I am not a visual effects artist, but I understand their passion. Framestore offers internship opportunities for anyone interested in visual effects and animation, including one called called Launchpad that is paid.
March 9, 2017
Today we stop at the American Society of Cinematographers' Clubhouse for a Q&A with some of America's best known DPs. A big topic of the discussion is the relationship between the director and cinematographer, which is crucial in creating a film. James Chressanthis (American Horror Story, The Ghost Whisperer, Chicago) shows us his reel and tells us how important it is to work closely with other departments. "It makes you a more well-rounded professional."
Later on in the evening, we meet with Oscar-winning sound mixer Mark Ulano, whose films include Django Unchained, Titanic, and Kill Bill. He said three things that stood out to me. "Have an open mind. Keep building relationships. Be collaborative."
Then he lets us hold his Oscar.
March 10th
We spend our last day at the Warner Brothers lot visiting some of their great animators.