Student Blog: Amanda DiMartino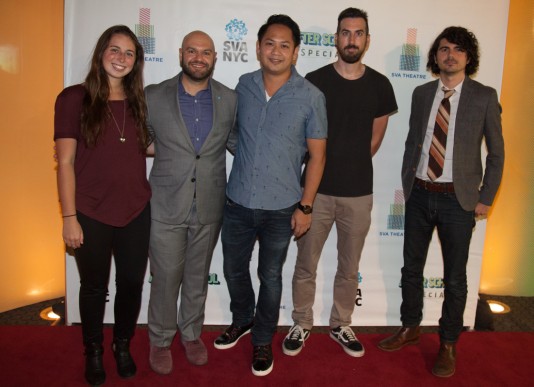 '17 editing student & VASA president Amanda DiMartino interviewed three SVA alum – including horror director Ti West. Stay tuned for more inside access from your Visual Arts Students Association president. She's your access pass to the best things going on at SVA. 
All my life, I have been a go-getter. I say yes to every opportunity that presents itself. This past weekend, I was blessed with the chance to interview some of SVA's spectacular Alumni: Ti West, Director of The House of the Devil, Peter Phok, Producer of The House of the Devil, and Dan Giachetti, Creative Director of Double Vision. It was part of the After School Special. Not only was this an amazing opportunity, but it helped me get some insight into the industry that I long to be apart of. All three of these filmmakers were incredibly open and nice, and gave me tips on how to navigate the challenges of life in this business. Each one of them is very down to earth, and we were able to laugh
about things that had happened during their time at SVA. Ti shot his thesis film — about a werewolf attacking a group of kids — in Connecticut, and the night before it had snowed A LOT, but he shot anyway. Peter Phok did a musical for his thesis film. Both Peter and Ti are working on a Western Revenge film entitled, In a Valley of Violence with Ethan Hawke and John Travolta, due out next year.