Student Blog: Anastasia Erastova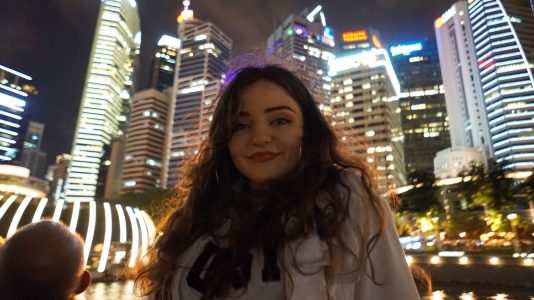 Second year directing student, Anastasia Erastova, is beginning a year long journey in the Building Bridges program – which brings the amazingly diverse artists of SVA film into collaboration with their peers from universities of the arts in Switzerland, Sweden and Finland. She'll be arriving in Zurich for the first session by way of Moscow – her home – and Singapore – a place she always wanted to visit.
Traveling has always played a significant role in my life. It broadens my perspective, brings new experiences, and allows me to connect with people and the world on a more personal level. As one wise man said, "I would rather own a little and see the world, than own a world and see little of it."  Having visited more than 30 countries, Singapore has always been one of the places on my bucket list. When I was 12, I read somewhere on the internet that gum is not allowed to be bought or sold inside Singapore and there is a $700 fine for spitting gum outside on the streets. This definitely sparked my interest, and later on I learned that Singapore is considered to be the cleanest city-state in the world. There is always something special and unique about each country: culture, history, beliefs, people and traditions. Nowadays, when environmental issues keep increasing and getting worse due to harmful effects of human activities, I enjoy visiting a place where the whole country leads an eco-friendly lifestyle and tries to preserve and take care of nature.
So, hello from Singapore – the world's only island city-state, located in Southeast Asia. It has a multiracial and multicultural society with a population of 5.6 million, 75% which are Chinese, 14% Malay, 9% Indian and 2% others. That is why, when you look on the front of the Singapore dollar note, you will see the word "Singapore" written in the four official languages: English, Malay, Mandarin and Tamil. Singapore is where east meets west, since citizens maintain traditions handed through generations while comfortably adopting conveniences of modern life and technology, making Singapore the city of the future. Singapore is an incredible place with friendly people, astonishing architecture and exceptional green environment. After all, it is referred to as the "Garden City" for a reason.
We arrived on the 27th of December. The drive alone were already amazed by the cleanliness and vegetation of Singapore; even our hotel looked like it was part of a tropical forest.
We left the hotel room immediately and went exploring. Our first stop was the iconic Marina Bay Sands SkyPark, which offers a taste of the highlife by viewing Singapore from above. Absolutely beautiful.
Next, we went on a tour around Chinatown, where we were introduced to the history, culture, and traditions of the people living in Singapore. We visited Buddha Tooth Relic Temple, tasted national food at the Chinese Food Market, and taken to the port by the rickshaw tricycles that showed us the city. Later in the evening we enjoyed the Singapore River Cruise on a Bumboat, where we saw the scenery of Singapore come to life at night.
On the 28th of December, we spent half of the day at one of the Singapore's most famous attractions – Singapore's national zoo – a beautiful, award-winning wildlife park, where, to my surprise, animals could roam freely in their natural habitats. We even had breakfast alongside orangutans!
Stay tuned for Zürich!