Student Blog: Anastasia Erastova & Brian O'Donnell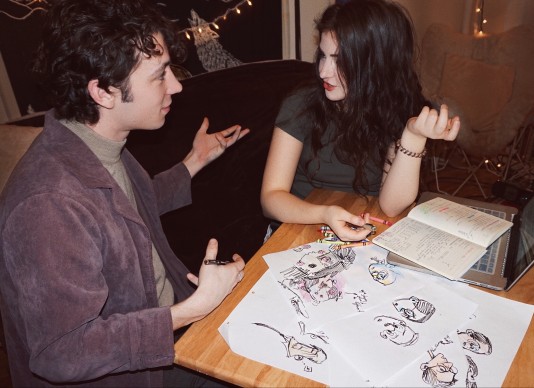 Third year film student Anastasia Erastova knew she wanted to make an animated film, so she teamed up with fellow third year animation student Brian O'Donnell to collaborate. Here, both write about the process of collaborating across departments.
The Birth of ANIMA: A collaboration Between Film and Animation.
Anastasia Erastova
I have always been fascinated with the limitless possibilities available in animation that are not available in film. In animation it is just you, your character, and the fantastical world of imagination. No casting, no rehearsals, no location scouting, no need to worry about obtaining video permits, the list goes on…
 ANIMA is a thesis film I am collaborating on with animation thesis student, Brian O'Donnell. Our film is about an introverted and imaginative boy named Marcus, who is constantly misunderstood and neglected – until he discovers another world that is an idealized version of his frustrating home. Unfortunately, Marcus risks losing it all when his parents find out about his secret world.
I knew from the moment I began working on ANIMA that it would be animated, to highlight the Marcus' journey through a fantastical world. After I finished writing the script, the next most challenging part of the process was finding the thread that connects film and animation departments. Where do you start? Ultimately, after months of extensive social networking, some replacements and frustrations, I managed to build a team of highly dedicated, talented and hardworking animation students that share the same enthusiasm and passion for this project. This includes the lead animator Brian O'Donnell, second animator Sunnie Moon, background artist Christopher Zambrano, background painter and colorist Daun Han, sound designer Bernt Karsten Sannerud and music composer Geraldo Arias.
Brian O'Donnell
When Anastasia approached the Animation department in search of a vessel to illuminate her vision, I wondered what I could offer to the possibility of a fully realised collaborative film. As our visions for ANIMA began to thread together through discussions of character designs and story development, I began to think not about what I would offer, but what I could gain from the experience. It was then that Anastasia and I began stitching together a powerful story with compelling pictures. The exciting part of collaboration was not the product, but the process. As the characters began to move and breathe through line and form, we realised we were experiencing something very similar to Marcus, as the animation of inanimate form became our deep passion. Interdependency and responsibility has allowed us to express our strengths and and depend on each other for our weaknesses. With the advantages of online platforms as digital collaborative space, It is unimaginable that our team of creators would have any trouble bringing ANIMA to life.
http://anastasiaerastova.com/portfolio/anima/
https://www.brianodonnell.co