Student Blog: Lizz Astor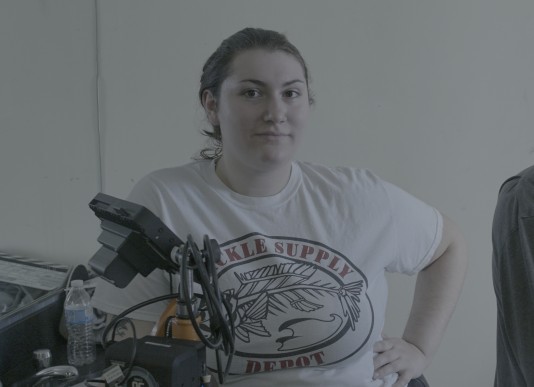 Thesis director Lizz Astor goes back to her own Catholic girlhood to ask some heavy-duty questions.
It felt odd delivering my film last Tuesday, I guess something akin to leaving your kid at pre-k, hoping that he or she won't be rude or throw up on the carpet or cry without you there. Films are deeply personal always, but I think especially when they have as many expectations as our thesis films do. My film, Drugstore Lipstick, is no exception.
The film follows Ava, a 16 year-old Catholic school girl, who has to decide whether or not her virginity is a cross she wants to continue to bear. It's a film that I hope says something different—that isn't preachy, just comforting. The idea being that, despite your surroundings, you are free to make your own choices and that whatever you decide is totally okay. It's also a film that depicts girls as robust and weird and gross and dynamic creatures, not just tropes or symbols. For example, I think that something we never get to see on screen is girls chowing down — not when they're upset , not when they're trying to impress someone, but the authentic human way that we are.
The film also takes place in my hometown, Baltimore MD, which had a tremendous influence on me growing up. Despite having moved away, I still adore it. We shot the film all around the city and by the water with immense help from the community there, and I hope that I did right by them with this film.
I wanted this film to be to something that I could be proud of, and would be happy with, if life got in the way and I was never able to make another film. Now that I'm at the end of the process, I'm so proud of the film that I was able to make, and so grateful for the tremendous amount of help, that I'm excited to share Drugstore Lipstick with you.