Student Blog: Lizz Astor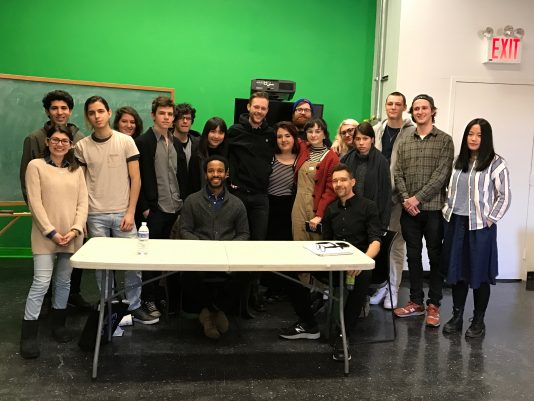 Moonlight star, André Holland, is having quite the success. 
"Even in a film full of brilliant moments, André Holland's third-act performance is a standout."
-GQ
Two weeks ago, he came to SVA to speak with the students in the Advanced Writing Directing workshop – invited by teacher, George Lavoo. Here, Lizz Astor, fourth year director, shares the inside story.
Ou
r class gathered in a large semi-circle and buzzed with excitement. George lead him in, beaming. "Hey y'all" he said in his gentle Alabama twang. We fell in love.
André Holland, one of the stars of the multi-Oscar nominated Moonlight, came to SVA just weeks before the Oscars to speak to students of our Advanced Writing and Directing Class with Joan Brooker and George LaVoo. André was handsome, charming, and had a vivacity that transformed the room's 9am dreaminess into sharp engagement. He came armed with stories from his life and from set, chronicling his ascent to stardom. He movingly spoke about his mother's willingness to let him chase his dream, and conversely the struggles he had as a young black actor from Alabama. "I never thought there could be a black Hamlet."
He spoke to us about the importance of seeing people like himself in film, and in making films that star a diverse cast. He also spoke to us about his process in preparing for his role of Kevin, the chef, in Moonlight.
As it turns out, André had no rehearsal time with Barry Jenkins (director of Moonlight) because Jenkins was intensely busy directing the small-budget month-long shoot. It was up to Andre to be ready. He arrived two days early to Miami to soak up the atmosphere and then jumped into five days of filming his part. Andre told the class highlights of what he does to prepare, which amazingly aligned almost perfectly with what Joan and George discuss with the class weekly. He stressed the importance of narrative place and time, beats, and active language—all things every third year student should have under their belt by the time they make their thesis film.
Holland was incredibly gracious and down to earth. Meeting him and hearing him speak about his career and what he looks for in a director was reassuring—we are on the right track.
Andre is currently in a Broadway run of August Wilson's "Jitney." (Note that $30 student discount tickets are available!) Moonlight is still in theaters.