Student Blog: Paula Cury Melo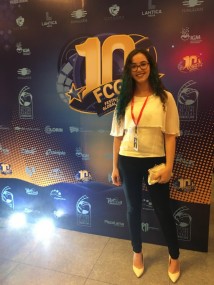 Paula Cury Melo's short film, Sins of Excess, recently screened at the Dominican Republic Global Film Festival. Here, Paula describes her experience presenting her short film to thousands of people.
My short film Sins of Excess was accepted as an official selection of the Dominican Republic Global Film Festival – the most important cinematographic event in the Caribbean, founded by the Dominican ex-President Leonel Fernández. Thousands of people from different parts of the world (especially Latin America) attend the Festival every year, including personalities such as Benicio del Toro, Zoe Saldaña, Geraldine Chaplin, and Irving Vincent.
More than 100 films in total are shown throughout the festival, which usually lasts one week. One of the sections of the festival is "Corto Global," or "Global Short Film," in which both international and national short films participate in a competition. This year, almost 300 short films were submitted, but only 11 were selected to be screened during the Festival and to compete for an award, including Sins of Excess or Exceso in Spanish. Although we did not win an award, it was a privilege to have been selected as a finalist in the most important Festival in the country, getting to see our work on the big screen, and having the opportunity to network with significant people in the industry. Apart from this event, I also had the chance to talk about the film and my experience studying abroad at SVA on live television and on interviews for popular newspapers such as "Listin Diario," so it was great to see how even some of the most recognized people in DR are willing to support young filmmakers and hear about their experience.
When asked about SVA, I said it's been a very gratifying experience since it has helped me grow as an artist. I mentioned the five majors that are offered in the film program (directing, cinematography, editing, documentary and screenwriting) and that I'm majoring in cinematography even though I'm also a writer/director, because I like being able to learn from every area in order to integrate my work in a more complete way.
I was also asked about how the film came to be – it all started when Alejandro Cortés, who was Director of Photography and Co-Producer on the film, asked me to write a short film that dealt with the theme of the Seven Deadly Sins, since that was his requirement for Dejan Georgevich's class. We have collaborated on films ever since my freshman year, so as usual, he was DP on the film and I was Director. I did some research before writing the script, but what was clear to me was that I preferred to focus on one or two "sins" than to create a broad piece of work that dealt with the theme in a general way. I stumbled upon a website that claimed the sins of excess were gluttony, greed and lust, which seemed really interesting to me, and that's where the title comes from. Essentially, the story combines the sins of greed and lust, but ends up being a film not about the sins themselves, but about the contrast between surface and reality in a superficial, broken marriage.