Student Wednesday: Jackii Sovern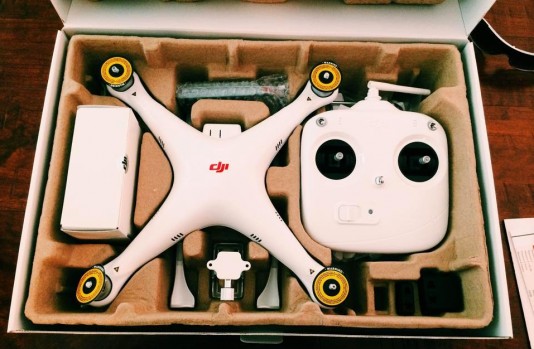 Everyone who ever thought it would be cool to have a drone, raise your hand. 
Today we are taking the unusual step of reposting the professional blog of SVA photography student Jackii Sovern — because this week she bought a drone!
This week, I got a drone.For the last few months, all I've talked about is a drone. 
@dirka
 on Instagram then got one, and every time he would use it/post about it, it would kill me more and more that I didn't have one. My 21st birthday is in a few weeks, and so I asked my parents for a GoPro. A few days later, my sister comes in and asks if she can give me some money to put towards the drone I want so badly. I looked them up online, and found that this one wasn't actually that expensive. On amazon, this DJI Phantom Quadcopter for GoPro came to about 513$ with taxes.
 (These photos all taken by @dirka and his drone!)
Using Amazon Prime and it's beautiful 2 day express shipping option, the drone arrived in 2 days. It comes in a beautiful white box, saying PHANTOM "The Spirit of Flight". It takes a little assembling at first, putting on the 4 propellors, screwing in the legs and tucking the wires into them as well. Then you have to charge the battery, and align the helicopter with the program on your computer (this part I really wasn't positive/still am not positive about what it does/what it's doing, but I hope that I've done it properly.)
Flying her is quite easy! I tend to get a little intimidated at first, but as time passes you learn how to control the machine and start to feel at ease with it. However, I took it up for it's fourth ride again today (not realizing that it was a little bit windy) and felt that I definitely didn't have full control of the machine, the wind would move it whichever way it was going and it made me quite uneasy.
The first fight that I took her up, I had an issue with turning her off upon landing. My dad ended up having to catch her in mid-air and taking the battery out just to shut it off. However, I have not had any problems since the first flight with the remote controller and turning off the Phantom.
Landing the Phantom is SO much easier than I anticipated it being! Landing on the grass is much easier, because the ground is not as harsh as concrete, for instance, would be. As long as you bring the Phantom down and let it hover right above the ground for a second, then slowly bring her down and shut off the propellors immediately, the landing is smooth as can be! Today, during that same windy flight I mentioned earlier, the Phantom came down way quicker than I wanted it too and bumped off the grass. I guess the main lesson learned today is to never fly in any type of wind, worst thing for a small flying machine! Wind is just a big bully to my little Phantom!
With regards to mounting the GoPro, as of now I have ignored the mounting apparatus that the Phantom came with, and have been mounting the GoPro directly to the underbelly of the quadcopter. I have read online reviews and stories of "The Jello Effect" but have yet to really experience this and have no further word yet on the point. I have read about the possibility of purchasing an additional gimbal which would more securely position the GoPro for video and photos, but have not decided if I will get one yet or not!
One of the only issues to really note is the battery. The battery life once up in the air is supposed to last around 10-15 minutes… which definitely is NOT a lot of time. I had to go ahead and buy an additional 2 batteries (+52$) to add more time to each play. The batteries do, however, take quite long to charge – so I don't forsee being able to use all 3 batteries day after day, one will most likely stay forever in rotation! Another downside is that the drone signal is strong so you cannot use the GoPro app or any other wifi connection that could possibly disrupt your signal, so as of now it's all blind shooting, hoping to capture what you're aiming the quadcopter at as you fly, in either video mode or photographic timelapse mode.
Tomorrow I will be assembling a DIY Traveling Crate for this Phantom so that I can take it in the car on a road trip up north. Will post about that tomorrow!
Below are a few shots that I took with the Phantom and my new GoPro Hero 3+ Black Edition (review coming soon!). I am also working on some videos but having some problems with my computer being overworked! Make sure to check out my Instagrams:
@jsovs
 & 
@swag_sovs
 for more pictures!