SVA Faculty Friday Blog 10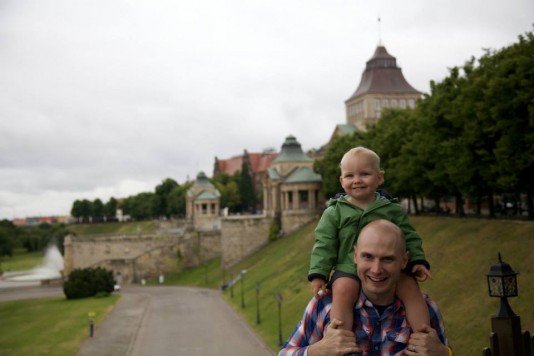 Kamil with son Eli near Warsaw, Poland.
Editor Kamil Doborowolski recently returned to Poland for the first time in 19 years to make a documentary. This is why.
To many people who know me, I may come across as a fairly normal American.  Besides working as a freelance film editor, I have thoroughly enjoyed being a faculty member of SVA's Film & Video department and recently also the Systems Administrator of the Final Cut Pro lab.  So far in life I've lived by the book.  I graduated college, got a job, got married, bought a house in the suburbs and had a kid.  I pay my taxes, vote, support my local sports teams and spend the weekends working on the house and my other free time with family and friends.
But I was not born in the United States.  I spent the first 8 years of my life in Poland and moved away 25 years ago with only my mother.  I have never met my birth father.  I don't know his name, I don't know what he looks like, I don't know where he lives and I don't even know if he is still alive.
As far as I can remember I never wanted to know anything about my father.  All I knew is that he was not in my life and my mother worked extremely hard to give me the best opportunity to succeed in America.  My stubbornness for answers didn't stop my frustration at not knowing how to do something that a father is supposed to teach his son.  I envied my friends with their fathers and how they bonded so easily.  Now as I raise my son I have thought about my own birthfather more than ever.
This spring I decided to make a documentary to uncover the truth about my father, my family past and what led me to my life in America.  This summer I am flying back to Poland to hopefully find him and see my other family members.  Then later this year through more interviews my mother, I will hopefully get closure on my past, a resolution with my father and a better understanding of who I truly am.
We will be publishing updates as Kamil's documentary takes shape