SVA Faculty Friday Blog 3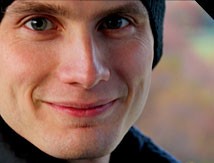 Nightmare scenario: After four months of preproduction and three weeks of shooting – including the two overnights when you ran out of food – your only hard drive crashes. Or is stolen. Or your cat delicately knocks an entire can of Coke Zero all over it. This week we sat down with Kamil Dobrowolski to talk about the awesome new changes in the Final Cut editing lab!
4K at SVA
Kamil Dobrowolski
"In the past, you would have had to reshoot your entire film and lose months of editing. This year, however, the Final Cut Pro lab has added a 96 terabyte SAN (Storage Array Network) expressly for
thesis students – and it has already saved one, whose drive actually was stolen.
The system has been set up to allow thesis students their own private "digital storage locker." You can securely sign into your locker on any of the lab editing stations – and know that no one else can have access to your film and media. No more lugging your external drives to the lab to work – risking them in rain, snow and subways.
The SAN edits and renders 5x faster than Firewire external hard drives. In the near future, an update will double that speed. The system easily supports 4K and 5K workflows on many stations simultaneously
without dropping frames. It can expand to over 8,000 terabytes of storage if needed. Workflows are free, fast, secure and convenient using Final Cut Pro along with the SAN. You can be more efficient which allows for more time to be creative.
It's fast, reliable and all the headaches are gone. Personally, I'm looking forward to not hearing any more disaster stories in March – now you have a safe place to load your film, and it's always there when you need it."
For more information you can go here to download the full story about VTrak A-Class.
And you can view Kamil's Faculty page here!