SVA Faculty Friday Blog 7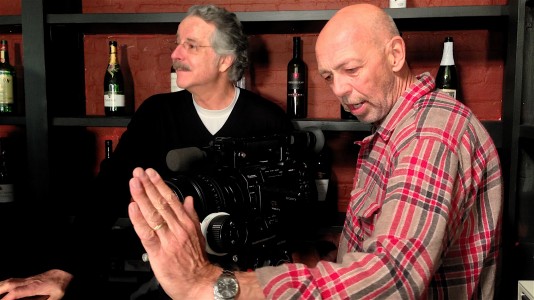 Oscar nominee Stuart Dryburgh, ASC shares his knowledge and love of craft in SVA's Masterclass of Cinematography.
"I'd like to start showing examples of lighting that I favor, from my own work and maybe others, with the emphasis on 'natural or 'enhanced reality," said Oscar nominated cinematographer, Stuart Dryburgh, ASC (Secret Life of Walter Mitty; Analyze This; Piano) last week to students of the Master Class in Cinematography taught by SVA faculty member, Dejan Georgevich, ASC. Dryburgh discussed his personal approach of "lighting without the camera – using your film brain in a digital age." He included the students in a hands-on lighting demonstration re-creating in part the bar scene from Secret Life of Walter Mitty which was filmed in Iceland by director/actor Ben Stiller.
During the course of this spring semester, master class students were challenged to refine their lighting skills by studying and reproducing scenes from the works of the grand master painters including Rembrandt, Vermeer, John Singer Sargent, Edouard Manet and Gustave Courbet. Looking at the works of these masters that used painted light to inform the stories of their subjects can help inspire cinematographers in the light they use in motion pictures.  A field trip to the Frick museum at the beginning of this semester offered the master class students an intimate and inspiring viewing of Vermeer's "Girl with the Pearl Earring" which was part of a limited engagement featuring the works of Vermeer, Rembrandt and Frans Hals: Masterpieces of Dutch Painting from the Mauritshuis.
Also it's been a privilege these past few weeks having  distinguished cinematographers Frank Prinzi, ASC (The Blacklist; Mercy; Law & Order: Criminal Intent), Barry Markowitz, ASC (Jane Mansfield's Car, Crazy Heart, Sling Blade, Apostle) and esteemed story board artist, John Davis, (The Great Gatsby, The Departed, Salt, The Interpreter) share and demonstrate their philosophies of lighting design, composition and visual grammar respectively.  It is intended that that video taping these past two semesters of our renown guest cinematographers will mark the beginning of a SVA "Heritage Series