SVA Premieres: 2017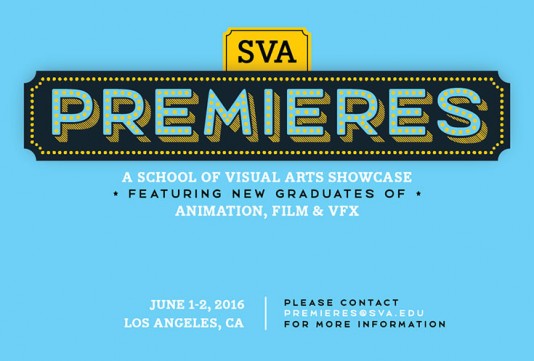 The School of Visual Arts returned to Hollywood on June 1 to raise the curtain on SVA Premieres, an annual showcase of student films held at the Linwood Dunn Theater at the Pickford Center for Motion Picture Study. The screening featured a curated selection of work by 21 new graduates from nine SVA undergraduate and graduate programs in film, animation and visual effects.
Below are a few short statements from the Film & Animation Chair, Reeves Lehmann, and Dusty winners Joe Sulsenti and Alejandro Cortes.
Reeves Lehmann: The second year of PREMIERE turned out to be enormously successful. Students not only enjoyed the opportunity to have their films screened with an audience of industry professionals, but equality important, prominent SVA alumni. The following day our new graduates visited film and animation studios where they were greeted by directors, producers, animation artists and recruiters. As the founder of the animation department, and the chair of the film department, I could not have been more pleased with the reception that they received from everyone. They, too, came away proud of their alma mater, now, knowing that they have many friends out their ready to offer them a hand.
Joe Sulsenti: The SVA Premiers trip was such an incredible experience. The hotel we stayed at had a beautiful pool where we could relax and take a break from the jam-packed schedule that was put in place for us. The entire trip was planned solely to get us in touch with as many industry representatives as possible and build relationships with them. I met so many people and learned so much about the industry just by talking to everyone that was invited to the events. And there were people from every corner of the industry! We also got a chance to attend a few studio tours, some of which included Disney Feature Animation, Disney TV, Titmouse and Six Point Harness. The screening was also a blast. Showing my film in front of an audience of industry professionals was definitely intimidating, but really cool to have been given that opportunity. I'm super grateful to have been able to go on this trip as it has opened many doors for me and I'm real excited for what the future holds!
Alejandro Cortes:  Last June I was invited to show my thesis film, The Disappeared, at the SVA Premiers in LA. During the trip, I was able to meet students from other majors that were also showing their work, and I got to hear their stories and visions as we toured around various production companies and advertisement agencies such as Universal, Buzzfeed, Sundance and Deutsch. During these visits, we saw and understood how different companies work depending on the type of clients they have, and I was able to get a quick taste of the industry in LA. During the mornings, we had breakfast with industry professionals who shared great advice and helped some students that were interested in staying in LA to work.
For the main event, we premiered at the Linwood Dunn Theater, and the response was very successful as many people approached me and the production team who flew from Mexico to watch our film in the big screen. We were able to meet very interesting people and hear their emotional response, which filled us with satisfaction. Overall, this trip was a very meaningful experience to me, and it helped me get a sense of what LA has to offer.