Animation Anarchy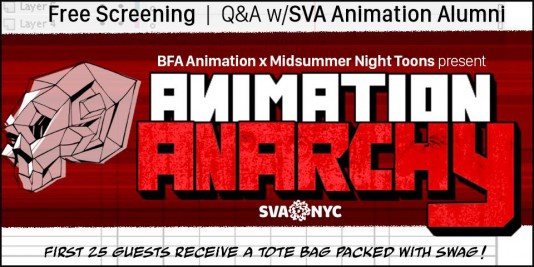 BFA Animation and Midsummer Night Toons present Animation Anarchy, a special screening of short films by BFA Animation alumni. A Q&A will follow the screening. First 25 guests receive a tote bag. Thursday, September 28, 7:00pm. 209 East 23rd Street, 3rd-floor amphitheater.
Join Heather Tilert (Nickelodeon, Ropeswing),
SVA Animation Alumni Chris Burns, Robert Fox (Exit 73 Studios, Disney/Polaris Coin), Gary Doodles (Nickelodeon's Breadwinners) and Matt Lee (Midsummer Night Toons) for an in-depth talk- ranging from their creative process to their experiences maintaining their vision through the development and production process.