$64,000 Democracy For All Video Challenge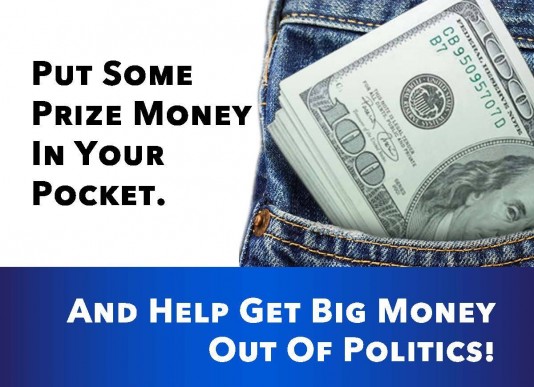 Filmmakers Wanted: Are you ready to take the $64,000 Democracy For All Video Challenge?
Big money in politics affects all of us. Decisions like Citizens United have unleashed an onslaught of spending in our elections, creating a government beholden to wealthy interests, rather than "We the People." The question of how we get our democracy back has become the $64,000 question – the big question – of our day.
Fortunately, taking action to fight the influence of big money just got a lot easier and more fun. SVA is teaming up with more than 130 other groups to offer a video contest, launching TODAY, where you can submit a video about money in politics reform and inspire others to take action, too.
Between August 12 and December 2, just go to www.DemocracyForAll.com and submit a short video (30-90 seconds) about big money in politics and the need for a constitutional amendment – the Democracy For All Amendment – to overturn Citizens United. You may want to enter early: there's a $1,000 prize every week, in addition to five category prizes of $5,000 each and a grand prize of $25,000 at the end of the contest.
The videos can be funny, serious, creative, dramatic, or musical. You can talk about other issues that are important to you, as long as you tie it back to the influence of money in politics and the need for the Democracy For All amendment. It's become increasingly clear: big money in politics affects many of the most pressing challenges we're up against… climate change, economic inequality, race and sex discrimination, gun control, student loan debt, for-profit prisons, financial fraud… the list goes on and on.
Think you or others you know may be interested in taking the challenge? Go to www.DemocracyForAll.com. Write your member of Congress. Make a video. Maybe win some money. Together we can build some real momentum for the campaign to get big money out of politics.