After SVA with Lake Fama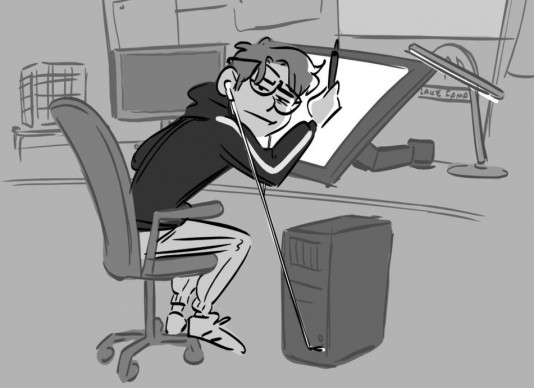 Lake Fama (BFA Animation 2018) shares their exciting experiences after graduating SVA! From industry work to freelancing to networking – Lake is here give adice on how they have done so far.
What life after SVA has taught me so far is that while you learn so much at school, there's such an immense amount more to learn about your craft even after getting the degree. Whether it's the social/networking skills that help you get a place in the workforce, or the technical skills that can only fully be learned on the job. It also has taught me that while hard work, perseverance, and skill are important for landing your dream positions, a lot of it is also based on chance – being in the right place at the right time.
I did freelance for commercials and television animation while I was chasing my dream job right after college. When I got my first dream job position, it was a week when my freelance opportunities were becoming so sparse that I was starting to put together resumes and applications for retail/customer service jobs, until the opportunity for my dream job position suddenly came out of the blue. A director lived at my apartment complex and his show was looking for storyboard revisionists, so he asked around our complex for artists looking for work. I reached out and showed him my portfolio. His team liked my work enough to send me a test and liked the test enough to hire me full-time as a storyboard revisionist. It was pretty much pure luck that landed me my first union job, and a lot of that came from privilege as well – having the ability to make the big move out west, having family here to help me with that, having my fiancée who works in environmental science to help carry us financially between work.
Even as someone working at a union studio, I still fall back on freelance jobs even though I don't do it full time now. A lot of other union artists work also freelance by night outside of their union gig. Work comes and goes no matter where you are. My second month into my first union job, my entire team was suddenly laid off one day when three shows got canceled by the higher-ups. (Side note: at this time I was also starting a gender transition, it was about a week before everyone in animation would leave for holidays, and my wedding was in two months. It's been a wild ride, y'all. This absolutely is my first rodeo.) We had two weeks of pay, but no promise of being placed on another show. I took freelance up while looking for in-house work again. I was lucky to have friends and mentors looking out for me, who eventually helped me get in touch with a director that was hiring – they liked my work from my past job enough to hire me, and to take a chance on me as a storyboard artist instead of a revisionist.
Honestly, I feel like I got that first big job because I was in the right place at the right time, and not everyone will have the same fortune. There's no shame in taking whatever gigs you can, even if it's not your dream job. There's no shame at all in taking up day jobs that aren't artistic if it's what you need to do to pay the bills while you keep pursuing your passion when you can. Even non-dream jobs will, most of the time, teach you time management, organization, social, and technical skills that will help you further your career. But at the same time – as much as you can, don't let companies step all over you.
We most often hear about the famous people – the showrunners and directors at big-name studios – but every job in animation is important and plays a pivotal role to the final product. All jobs are equally respectable, regardless of the size or type of studio. For me personally, I felt like freelancing was a hugely important first step in my career, and that socializing with other animators and learning the massive breadth of experiences that people had was equally enlightening.
So in general, here's my advice column for anyone graduating from SVA:
1.) Coming out of college without anything immediately lined up can be really hard, but don't be discouraged. I think it's honestly pretty rare for people to have animation jobs lined up for after graduation – I've heard folks in LA say it takes on average 1-4 years to really "break in" to the industry. It'll take time, but you can definitely get there. Do what you need to do to get by, but hold on to your motivation and your aspirations – you can definitely get where you want to be with time, persistence, an eagerness to further your ability, and an outgoing, optimistic attitude.
2.) Socializing is part of the job, and most often how people get the job to begin with. Holding yourself away to perfect your skills and portfolio will, unfortunately, most often not help you progress in your career. Make genuine connections with other animators. Be honestly interested in their lives and their journeys. So much of what I learned in the immediate months following graduation was from asking mentors to coffee and chatting with them. We can all learn from each other, and that's an education you can't always get just from school!
3.) On a similar note – your peers and friends will be your coworkers in some way. Work doesn't have to be a competition, and it shouldn't be. Look out for each other when you can, support and encourage each other, be excited about each other's work.
4.) In your senior career class, take good notes on the days when the teacher talks about freelancing! I honestly still referenced my notes months into freelancing.
5.) Be yourself in your work! Your unique voice will help your work stand out.
6.) Women and non-binary folks, I recommend keeping up with the group Women in Animation! They've recently re-started their NYC branch from what I've heard. The group was my rock as I left college and felt a little lost. Their mission is "50/50 by 2025" (i.e., to get the statistics of professionals working in the industry to 50% women and 50% men, up from the current roughly 20% women). It's a fairly binary-centric motto, but in my experience, they've been welcoming and supportive of non-binary folks. Men are welcome to join as well, but I personally advise men to be conscious of their decisions and actions in the group. Men, as evidenced by the group's motto, already hold an advantage over women and non-binary folks when it comes to job opportunities. It wouldn't be classy for men to attend Women in Animation events with the goal of being hired by a studio, but I encourage men to go to them to support and connect with more women and non-binary people in the community. Additionally, Black Women Animate is a group that I hope will continue to grow and gain more attention – I encourage black animators to keep an eye on it and be involved if possible!
So, soon-to-be graduates: hold on to hope, work hard, be nice, be genuine, be yourself. Keep in touch with your friends, mentors, and peers — including me! I'm so excited for you, and I'm looking forward to working with you and learning from you.
If you want to see more of Lake's work follow check out the links below!