Alumni Blog: Abdul Ndadi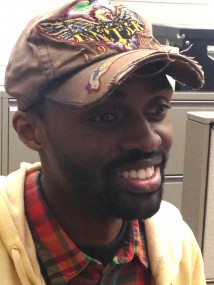 Third update: Abdul's film keeps on going. Here are more festivals Orisha's Journey will be screening at:
Langston Hughes African American Film Festival
Hiroshima International Animation Festival
Madagascar Rencontres du Film Court
Glovebox Film Festival in Boston
Hamilton Film Festival in Ontario Canada
Cannes Film Festival Show Film Corner
Anim! Arte Rio
Second update: Abdul's film will be screening this year at the Zanzibar International Film Festival in Tanzania. The Festival de Cannes has put the Short Film Corner participants on their website! 
Update: Abdul's film, Orisha's Journey has been approved to screen at the Cairo International Cinema and Arts Festival for Children.
Abdul Ndadi is an animator from Ghana, and Africa is his inspiration. He graduated SVA class of '13, but took extra time to finish his very ambitious animated film.
I have just finished my film Orisha's Journey, which was too complex to do my thesis year. The film is based on African folklore. I want to show another side to Africa besides safaris, so I explore different aspects of different countries around Africa in order to give the viewer a pan-African experience. It's important to me that Africans feel that no matter where they're from, they're part of my film. In the West, there is not a lot of exposure to real Africans — most people only go as far as The Lion King. I want to take people farther, to create a deeper meaning. There is a word in Ghanaian: "Sankofa" – it means to return that which was lost. It is a symbol for not forgetting your roots and learning from the past.
It is said that a tree without roots cannot stand. Orisha's Journey is about a little girl and the transcendent power of imagination. Orisha – who doesn't believe in fables – finds herself in one, after meeting a "lost-flower spirit." She must journey through the world of spirits, and the depths of her imagination, to return the lost flower to the mysterious walking forest. The word "Orisha" is a Nigerian term for a nature deity or spirit. Throughout African folklore, it is believed that all things possess a spirit – from the rocks below, to the trees above – even the wind around us. The entire world is as alive as you and I.
I learned so much here at SVA – not just from the faculty, but also from my talented friends. Everyone shared their ideas with me, and helped me grow as an artist and storyteller. I am submitting to many festivals, most recently, the Hiroshima Animation Festival.
Our fingers are crossed for you, Abdul!