Alumni Blog: Alejandro Cortes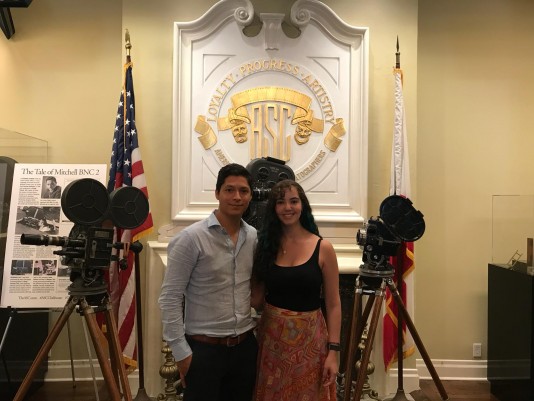 Alejandro Cortes wins ASC Haskell Wexler Student Documentary Award! Here he talks about working with fellow SVA Alumna Paula Cury on making the film, and his excitement at finding out he was nominated.
I was in Mexico City promoting my latest project, an episodic series about illegal immigration, when I received a call from David Darby, ASC saying that I had been selected as a finalist for the ASC Haskell Wexler Student Heritage Award for my cinematography in the documentary Adrift, a film directed by SVA alumna Paula Cury as part of her thesis film. This nationwide competition is designed to showcase the rising talent of exceptional cinematographers who have recently graduated, and inspire the next generation of filmmakers. I was told there were more than 70 films submitted this year, and only 13 were selected as finalists. I was one of the four nominees in the documentary category, so naturally I was in shock when I learned that I was invited to Hollywood for the award ceremony. For any cinematographer I know, including myself, the American Society of Cinematographers (ASC) represents the biggest, most respected institution in the world when it comes to the art and craft of cinematography. Becoming an ASC member is the ultimate honor for any DP, or at least it is for me. Go figure my excitement!
Our documentary, Adrift, portrays a crude reality in the Dominican Republic, where sexual education is almost nonexistent, teen pregnancy rates are staggeringly high, and abortion is illegal in all circumstances. The film exposes layers of social issues including disregard for women's rights, toxic masculinity, domestic violence, and a political system coerced by religion. But even as they face tremendous adversity, expecting mothers as young as 14 reveal a fierce determination and a collective hope for a better future.
The film had been well received at the 2018 Dusty's film festival, where it won the Special Jury Award for Social Documentary. We felt like we had a good short, but the original idea was to make this project a feature length documentary, so we went back to DR to find new material and follow up on our subjects, two 14 year old girls both 6 months pregnant, who are now 15 and have given birth. Paula and I were in the middle of shooting when we had to take an express trip to LA for the award ceremony. This 180 degree turn from being in a very remote town in DR, witnessing extreme poverty, limited water and electricity to being in Hollywood at the iconic ASC Clubhouse for something that was still ongoing made the experience more surreal than it already was.
On October 12th, we attended the screening of all the films nominated, and I was blown away by the amount of talent in the room. I was truly inspired by some of the work I saw in the screen. The quality presented by each artist was indeed exceptional, and I felt extremely lucky and humbled to be a part of that group, especially when ASC president Kees Van Oostrum said this year was the best he has seen in a long time, and that he hoped to see us as members in the future.
On October 13th, we had dinner with a full house of ASC members and industry professionals where we exchanged experiences and points of views on cinema before the award ceremony. The documentary category was the first to announce a winner, and when I heard my name I could hardly believe it. Even today I can hardly believe it.
This award means a huge deal to me because of what the ASC represents to me as an artist, and I am sure I will keep this moment in my heart for the rest of my life. On February 2019 I am invited to the ASC Awards in LA, where I will be commemorated along with Matthew Hayward and Steve Breckon, the winners for the undergraduate and graduate categories, on the ASC's 100th anniversary. The biggest cinematographers in the world will be attending the event, and that to me is just insane.
I am really excited to see how things develop after this, and I am especially excited for the future of Adrift and the amazing Paula Cury. I believe this film is necessary to bring awareness to our society, because even though it takes place in the Dominican Republic, this issue applies to many countries in the world, and a change is needed.