Alumni Blog: Bruce Gorman, Jr.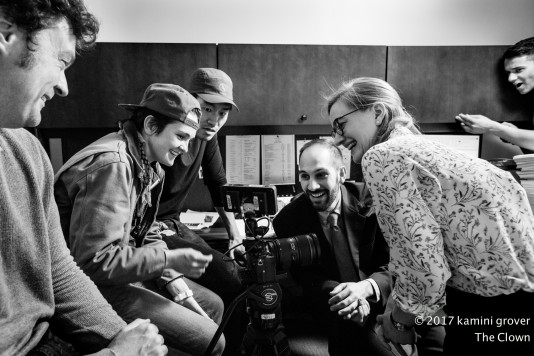 Bruce Gorman, Jr. is a continuing education alumnus from Igor Sunara's Lighting, Advanced Cinematography, and Directing class. While there he met many SVA students and alumni (including 2017 cinematography graduate Becca Farsace) and together, produced his first feature, Clown.
In September 2016, I had a script I had written for a full-length feature with no clear idea how I was going to make it. The script was called The Clown, about a corporate working stiff named Barnaby Hatchett, whose life is an absolute mess, and who finds himself harassed every day as he goes in and out of work by a dark clown that lives in his employer's parking lot, and whom only Barnaby could see.
I was not making progress with my film, so I signed up for Igor Sunara's Lighting, Advanced Cinematography, and Directing class, where – having taken none of the prerequisites – I quickly distinguished myself as easily the most incompetent student in class; unable to set up a light, operate a camera, or even push a dolly without getting it caught on some nearby equipment for even a single take. It wasn't long before Igor put me in the one role where I would do the least harm, and where I would obtain a lot of valuable experience: the director. I had taken Frank Vitale's Digital Filmmaking I class two months earlier, where, with my non-SVA friends and a professional sound guy (Jose Ochoa, Jr.), we made a 4-minute short derived from excerpts from my script. But none of us really knew how to make a film, and if I was going to do it right – make something that looked professional – I was going to need to find a professionally trained director of photography. One who not only was talented, but who also was not afraid to work under the constraints of a self-financed film.
Enter Becca Farsace. I explained to Igor what kind of movie I was trying to make, and was given Becca's name from his list of talented SVA alumni based in NYC. Becca is young, gifted, and fearless. Moreover, she liked the script, and knew all the right people we needed to make the film. She introduced me to fellow SVA alums Kyle Seeger, Eric Schmidt, Beth Bowman, and Frankie Ruiz (current student, and much sought-after production designer). I had struck gold!
Then there was my classmate and now-friend, Chi-Hong Yim. Chi is one of those extraordinarily capable people who, if you were marooned on a desert island with him, within two weeks he will have installed indoor plumbing and cable TV. I didn't know this about Chi at the time, but I quickly realized how Chi could do everything in class that I couldn't do, and invited him to join the crew.
Fast-forward five months to mid-February 2017, and we were off and running, filming The Clown.
We filmed for one weekend a month (due largely to nearly everyone on the cast and crew has a full-time day job) until we wrapped midnight on July 15, 2017. My mornings generally began with the 5:15 a.m. cab ride to CC Rental where I would pick up the large van I had rented and head back to my apartment. I would then spend the next half hour hauling all of the heavy equipment Becca had ordered for the day's shoot (and which I had stored inside overnight so it wouldn't get stolen) in multiple trips down the elevator to the van; then go pick up the bagels and/or other breakfast items; then meet the NYC-based cast and crew at SVA by 7 a.m., so we could begin the hour-plus drive to my office in Princeton, New Jersey, where over 70% of the movie was shot.
We filmed all day – or at least until sundown.  The entire movie, 87 minutes is the final cut, was filmed over 11 days. We had to be disciplined, and creative. But we got it done. The actors all rose to the occasion and were terrific. Becca, Chi, & Co. whipped up a miracle on more than one occasion as daylight was fading. Frankie Ruiz converted our first-floor office cafeteria to a daytime diner scene that you would never know was filmed in an office building at nine-thirty at night. True, more than one mentor-mentee session with Igor over at Molly's Pub was required for purposes of venting and refocusing. But when you're making a movie and doing what you've always wanted to do, it is amazing how often the solution to any problem presents itself; your only job as the filmmaker is to keep moving forward.
We held our cast & crew screening over at the SVA documentary screening room on West 21st Street in January, with Igor in attendance. It is difficult to describe the feelings of elation, exhaustion, and great satisfaction at having made it through this experience with my SVA colleagues. Many thanks to the whole gang, to Igor, and to SVA, for helping make this all a reality.
The Clown will be shown in film festivals during the 2018 festival cycle.  For more information, check out www.clownfilm.com.