Alumni Blog: Kay Hung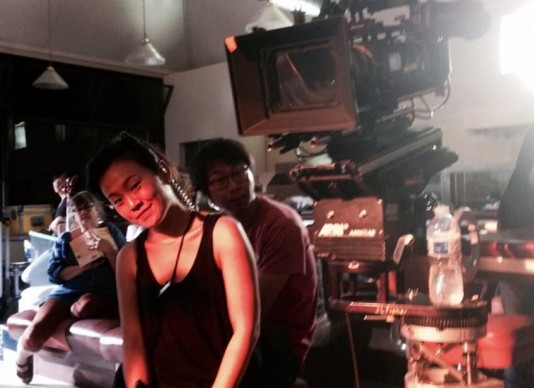 Kay Hung, SVA Film '08, last year got her MFA in Cinematography from the American Film Institute (AFI). She just wrapped the latest Jim Jarmusch film, shadowing noted DP, Frederick Elmes. We are lucky to have her shooting a series of interviews with SVA women to launch in January.
In 2012 I entered the American Film Institute (AFI) MFA program in Cinematography.
I had wanted to study film since high school in Taiwan, but only at SVA did I discover Cinematography, which for me was the closest of the film disciplines to pure fine arts. This was brought home to me when I saw Happy Together by Wong Kar Wai: the long opening sequence of a waterfall is like a painting but through the camera. I had the – completely – wrong  idea that cinematography would be straightforward. But the more I learned, the more I realized how complex and intricate it.
In the end, the only thing that allowed me to succeed as a Cinematographer was pure pride. I saw how much of a boy's club the profession was, and how few women majors there were at the time – we started with six thesis DP's and ended with only four. In my class, I believe I was the only woman who shot three thesis projects, one of which won the DUSTY for Outstanding Film.
English is my second language, my voice is soft, and I am a slight, feminine Asian woman. I'm not what you would associate with your idea of an Alpha male, or even an Alpha female. SVA constantly forced me to step out of my comfort zone. I had to speak English, chat with people socially, pretend to catch the jokes, while at the same time as DP, I had to solve all technical, aesthetic and storytelling issues and work closely with the director. Sometimes this meant being away overnight, working incredibly long hours, carrying heavy equipment – throwing myself into as many opportunities as I could in order to really learn what it means to make movies.
After graduation, I was determined to make my living with the camera. It was extremely hard to land my first job, but I worked for four and a half years as a non-union camera assistant, struggling to get my visa and live in New York.
I found that I missed filmmaking in the creative, collaborative sense that I had known at SVA. I didn't want to do merely technical work; I wanted to exercise my creative muscle fully as a Cinematographer. And the first DP that ever hired me convinced me that this meant AFI.
It is an honor to get into AFI, but their determination to make each and every one of us a Director of Photography could be grueling. They can teach you everything technical in two weeks, but learning to be a true storyteller – to understand human nature deeply enough to be able to express this in visual imagery and fluent narrative – is unspeakably difficult. We were constantly compared to the greatest cinematographers in the history of film – and told they were human beings like us. If they could do it, we can, too.
Since I graduated from AFI and came back to New York, I have been shadowing Frederick Elmes, ASC.. (Blue Velvet, The Ice Storm, The Namesake). We have been working on Jim Jarmusch's latest film, Paterson. The more I work with Fred, the more I am humbled by his constant joy in what he does. I am gaining the patience needed to keep learning this art in all its possibilities.
On the set, Jim Jarmusch was fond of quoting Akira Kurosawa, who at 85 was often asked when he will stop making movies. His answer: "When I figure out how to make them."