Alumni Blog: Khalifa Al Thani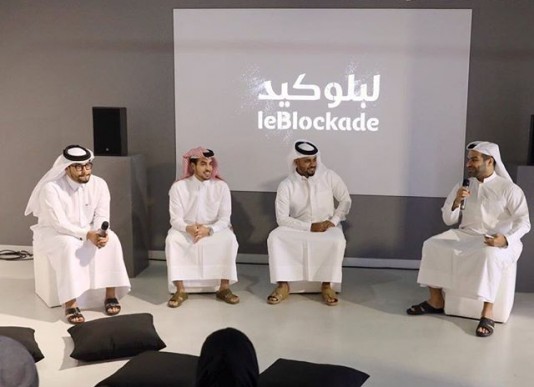 2015 Screenwriting student Khalifa Al Thani (above, in the red Qaffiya) writes about the political impact storytelling can generate. He recently made two mockmentaries combating fake news in Qatar, and is now reworking his thesis screenplay at the Hezayah screenwriting lab.
In 2015, I moved back to my home country of Qatar after graduating from SVA. Prior to moving back, I was provided with an immense encouragement and help from my peers, professor and mentor to continue developing my script Land of the Brave. The script was nominated for an outstanding achievement in screenwriting at the 26th Dusty Film Festival and that in itself was a great push for me to move forward with the script.
In December of 2016, I was hired as part of the Training and Development team at the Doha Film Institute. The job offered me an insight into what it's like working at a production company. The Training and Development initiative nurtures filmmakers in various stages of their project through the development team as well as the workshops and labs that the institute offers.
Not to dwell into politics but on June 5th of 2017, an illegal blockade was founded out of petty jealousy by the neighboring countries Saudi Arabia, Bahrain, UAE and Egypt. In the creative sectors, artists in the country have been working together to combat all the lies that are being told. I have shot two short mockumentaries regarding the fake news titled The Fabricator, chronicling the day in the life of the news fabricator, Jaffar. His job requires him to cover fake stories regarding any subject the news agencies want him to cover, as long as he gets money in return. The mockumentaries were meant for social media platforms, mostly Instagram and twitter and it had a good response. A group of artists, including myself, have worked together to create an exhibition to present all the works that the artists have created since the blockade happened. The LeBlockade Exhibition was only open for two weeks and it was a great success in the country. There were a few screens that presented interviews with artists as the blockade films, caricatures, graffiti's and many other things. Thousands of people visited the exhibition along with some ambassadors, ministers and even the emir of the country.
After almost two years of neglecting my thesis script Land of the Brave I have finally started working on it again with DFI'S advanced feature-length screenplay lab called Hezayah. The lab is a collaboration between Doha Film Institute and Torino's Film Lab. The lab consists of four sessions of four-day workshops, which take place intermittently over a period of six months. I've written two drafts during that period of time, changed the title to The Voice of Amirah. I have also joined the Producer's Lab in a quest to find the right producer. Qumra's initiative has also been a big help. They are an initiative that puts you in touch with industry professionals who work with you to help shape your project. I recently got back from Beirut Cinema Platform and I've been in touch with a few of them regarding co-production. My next step is to shoot a short scene from The Voice of Amirah with a Grassroots fund I've received from the Doha Film Institute. If all goes well I'll shoot the feature sometime next year. Thank you SVA and everyone I've met at SVA for the best four years of my life and teaching me not to give up on my dream.