Alumni Blog: Mayid Guerrero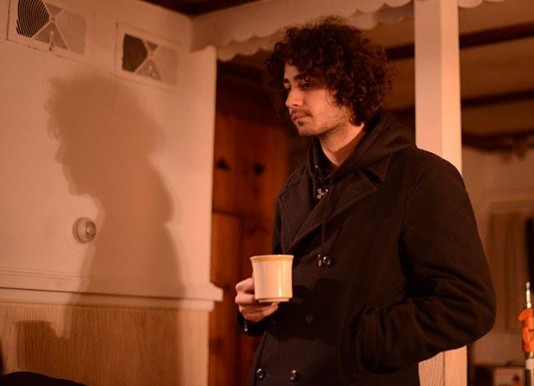 '14 Mayid Guerrero took home the Independent Filmmaker Project Award for his film When the Moon Shines. Here, he tells us how his film has brought him to his next project; directing episodes for a web series from the producer of Broad City.
I was recently hired to direct a web series by Tom Watts and M.A. Gonzalez, the two creators/stars of the series. The show is called Down and Out, and follows the irreverent adventures of two couch surfing guys living in Brooklyn. It's very Broad City esque, and made even more so by the show's producer, Samantha Saifer (executive producer of Broad City). Broad City started as a web series, and was then pitched as a TV show; this seems to be the plan for Down and Out.
Having seen my SVA thesis film, Tom and Mark brought me onboard to give their comedy series more dramatic weight. They wanted a director with less of a comedic background and more dramatic and character-based skills for the show. In the original script, the characters were somewhat lacking in motivation. Some of their antics were funny — guys in extreme situations — but I felt their crass, narcissistic nature would get old without a dramatic reason to care about them.
It feels a little intrusive to take control over another writer's passion project – especially when they're also the stars. Tom and Mark carefully nurtured this project for the last couple of years, whereas I was given less than a week to get into their heads.
Coming as an outsider is intimidating at first, but quickly fades. The cast, locations, and most of the crew were chosen before I signed onto the project. Most importantly, everyone was easy to get along with. Even when a producer showed up on set (an experience I expected to be filled with silent judgment and critique), he complimented me on everything I was doing, and expressed belief in my vision.
If someone hires you to direct their project, you should be confident that they trust your vision. Ultimately, the director runs the show and if they didn't have their utmost faith in you, they would have hired someone else.
Check back for updates from Mayid, and follow along on the Down and Out Twitter, here.