Alumni Blog: Robert Cuollo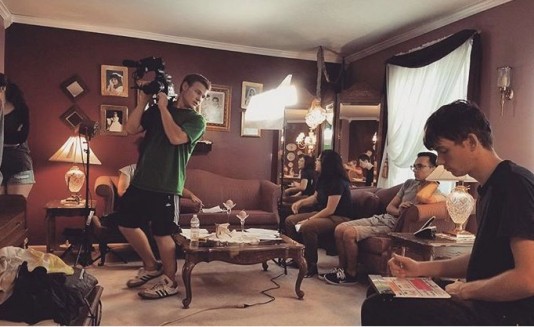 Robert Cuollo is directing his first feature with a crew of almost entirely all SVA graduates and students.
The Damaged is an independent feature film produced by SIXTOOMANY Productions – A production company founded by SVA graduates, Joseph Ralko, Emily Short, myself & OCC graduate Vincent Cotroneo.
I directed the film from a script written by Vincent Cotroneo and produced by Joseph Ralko. It is also Co-Produced by Emily Short & Marissa Grinstead.
Here's the synopsis: When Hunter Miles is released from prison his main goal is to reconnect with his dysfunctional family. But his world begins to crumble when a dangerous group he was once involved with comes back into his life with a vengeful agenda.
The first official teaser trailer arrives February 10th. Look out for it on all social media platforms.
It has been such a fun experience working with my friend and business partner, Joseph Ralko. We've gone from college friends to business partners, and it has been a great journey. Joe and I first worked together on his web-series Lorraine Russo's Family Diaries (which just wrapped up its 2nd season this past November. Be sure to like, comment and subscribe to the show on youtube and follow us on social media @lorrainerussosfamilydiaries) Collaborating with him as well as our friend Emily Short and my cousin Vincent Cotroneo has been a very productive and professional experience. We can't wait to grow our company and bring so many different forms of entertainment out to the people. With The Damaged I wanted to make a unique film that audiences could really sink their teeth into, and I really wanted to work with current film students and give them an opportunity to work on a feature before they graduate.
My team and I brought on current SVA Film students, Dominik Czaczyk (who was the Director of Photography for the film), Natalie Ralko (who is editing the film), and Nicky Mudryy (who helped sound and camera department). Also on the team are many recent SVA Graduates: Marissa Grinstead (2015), Eugene Mcmanus (2015), Sheena Scott (2016), Justin Cannon (2016), Sorapan Bunnag (2016), Calvin Darden (2016), as well as NYU Graduates: Myranda Mallenbaum (2016) and Connor Smith (2016)
SVA Faculty also played a role in the film. Professors Igor Sunara and Mary Lee Grisanti have been big supporters and promoters throughout the film's journey.
With post production underway, we're very excited to start promoting our film. We plan to submit to multiple festivals as well as try to screen the film in theaters throughout New York. It's been an exciting process and one I won't soon forget. We cant wait for everyone to see the film.