Alumni Blog: Shubi Wins Again!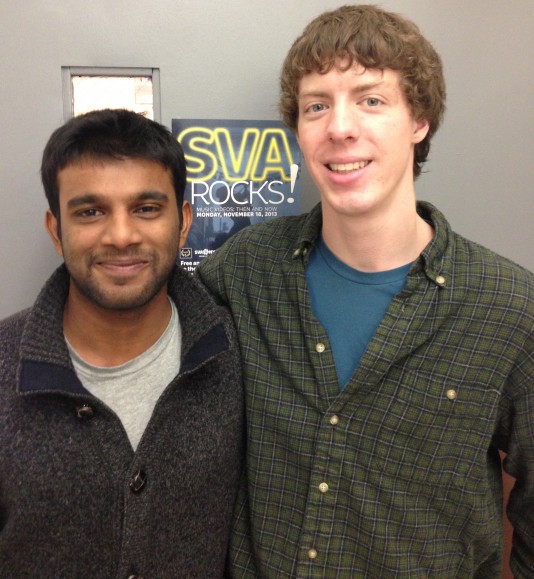 Welcome to Life after Film School! Our new Monday Alumni blog starts by featuring what last years grads are doing now. For our first week we sat down with Shubi Bhutiani to talk about his thesis film, Kush, which continues to sweep up honors wherever it is shown. Last night, it won Best Short Film at the South Asian International Film Festival sponsored by HBO.  Visiting SVA with his editor, present thesis student, Tom Knight, he sat down with us to talk about being short listed for the Oscars – and other remarkable things that have happened for him in the six months since he graduated.
"I have to say, all the stars aligned for this film – so many things happened that might not have.  I wavered between making this film and making something less expensive and less ambitious. I finally decided it was now or never – that I cared more about the story itself than any of the difficulty of making it.
"This film encapsulated my whole film school experience.  But I could have never made it, first of all without the support of my advisor, George LaVoo – all my teachers – and if about 10 fortuitous accidents had not happened! We had no bus until two days before; my D.P. and dear friend, Michael McSweeney, was suddenly free to do it; and I won the pre-production grant, which I used to immediately buy Michael's ticket to India. Everything was like that. Even the actress wouldn't have been cast, but my father knew her from his gym!
I knew from the moment I heard this story six years ago – I mean, who remembers anything for six years? – that I wanted to do it.  It was a great vehicle for expressing both my love and frustration with India.  It explores one of India's darkest moments. There are so many cultures in India, but the classroom is a kind of utopia, a level playing field where differences are not so important. This is the first time, for these kids, that the world intrudes.
"I never thought I would be in this position – but I'd rather be here than any other! I have had to redo all the plans I made before graduation because suddenly so many things have become possible that I could never have foreseen."