Alumni Blog: Sonja Von Marensdorff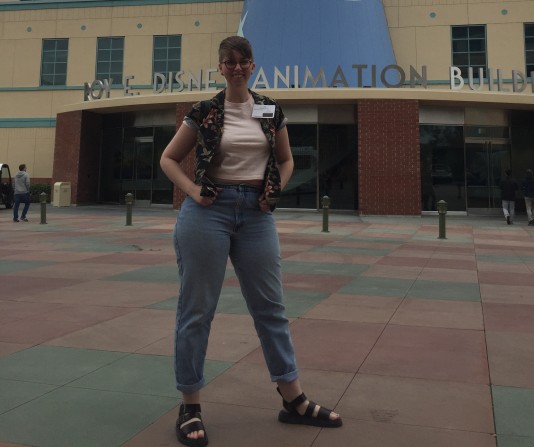 Sonja Von Marensdorff (BFA Animation 2018) was selected to screen her Dusty winning film Crow at the yearly SVA Premieres event in LA. Here, she writes about finding inspiration on YouTube, traveling to SVA Premieres in LA, and all her classmates and faculty who helped her make Crow.
When I was thinking of ideas for my 2018 animation thesis film I immersed myself in every short that I could find on Vimeo and YouTube. I really enjoy Felix Colgrave's work, and I think some of the ideas he had going in his film Double King really rubbed off on me and the story that I started making. I doodled a bird with a hat that I liked, made it better, and found my thesis character. 
I went through a lot of versions of Crow's story, and originally had a much longer story with dialogue and a little bit more world building in place. The hardest part of my year wasn't keeping my interest in the story or the world, but was shaving it down to something that was a manageable size that I could finish to a level of polish that I'm happy with. In the past I've boarded and figured things out and stuck with it, but for Crow I was refining shots and cutting the fat up until the spring. In the end, I found it really satisfying to distill my film down from a lumpy and overgrown story into its leanest, most concise form. 
The best resource I had making this film at SVA was my classmates and teachers. I was lucky to have a great advisor, Al Pardo, who was ready to meet with me, problem solve, and give feedback at any time. Also, the animation department has the best staff in the entire world in Mark Minnig, Sam Lee, and Gabriela Ilijeska. They all helped me in a million small ways over the past four years, including technical help, career and life advice, and just genuine friendship and support. Lastly, the other animators I've met and learned from and gotten close to have been my biggest resources and inspiration. Just to name a few: Chris Fottrell, Ben Lucas, Romy Miller, Jackie Snyder, Soren Hughes, Branko Kljajic, Kira Clines, and Nic Piscitelli. All these people helped shape me into the artist I am now, and both directly and indirectly helped me finish this film. I love you all!
Doing SVA Premieres was terrifying but fun. I was really proud to get to screen alongside some really talented SVA artists and filmmakers, and I had fun getting to know them over the four days. The whole trip felt like home away from home thanks to all the familiar faces. It was also great to see so many successful SVA alums and to hear their stories and advice. Overall, SVA Premieres helped me feel like I have a future out in Los Angeles, and gave me the chance to talk to and connect with industry people who are interested in my work and career. I'm so grateful to Adam, Angie, and the other organizers who made this possible and were nice enough to include me: thank you!