American Society of Cinematographers Open House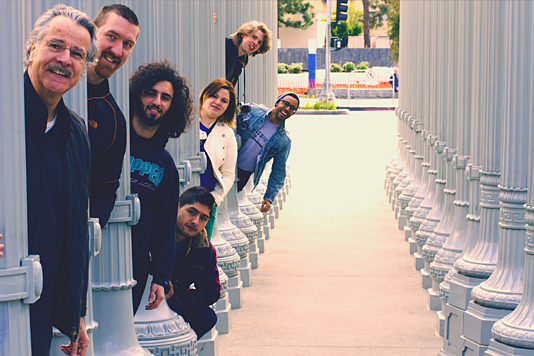 On February 7, 2013, cinematographer and instructor Dejan Georgevich took seven SVA students from his Advanced Cinematography class to attend the annual American Society of Cinematographers (ASC) Open House at the historic clubhouse located in Hollywood.
Students were greeted at the clubhouse by two-time Oscar winner Haskell Wexler (Who's Afraid of Virginia Woolf, Bound for Glory), who gave a brief talk that emphasized "it's not just a mastery of the cinematographer's tools, but it's what you have to say that's important!" The all-day event offered students a unique opportunity to meet many of this year's Oscar nominees in cinematography, including Seamus McGarvey (Anna Karenina), Claudio Miranda (Life of Pi), Wally Pfister (The Dark Knight Rises, Inception, The Prestige), as well as legendary masters of cinematography Vilmos Zsigmond (The Deer Hunter, Close Encounters of the Third Kind, Deliverance), and Owen Roizman (The French Connection, Network, The Exorcist).
The following day, students met at the Los Angeles County Museum of Art to view the outstanding Stanley Kubrick exhibit, which included key artifacts from his long career. They also took in an inspiring exhibit of Caravaggio's paintings. Later that day, Derek Rittenhouse—SVA alumni and American Film Institute (AFI) graduate with a master's degree in cinematography—led the group on a tour of the AFI conservatory.
A First Hand Account of the trip by SVA Film Student Eddie Pages:
On Thursday, Feb. 7, 2013, a group of my classmates and I traveled to Los Angeles, California, for the American Society of Cinematographers (ASC) Open House.


We spent Friday driving around Hollywood and Studio City taking in the Left Coast. Saturday afternoon we met with our professor Dejan Georgevich at the world-renowned ASC clubhouse. Not two minutes after meeting with Dejan we were introduced to the legendary cinematographer Haskell Wexler, who advised us to figure out what we believe in politically and to let those things inform our styles as visual artists. 
We had a wonderful afternoon meeting with masters of cinematography like Wally Pfister, Rodney Taylor and Seamus McGarvey, as well as Joe Dunton, the man behind many of the great cinematographers of the last century.
We were able to see the camera techniques used in productions ranging from
2001 A Space Odyssey
to
Game of Thrones
with the very people responsible for them. We discussed the future of digital postproduction workflow with Curtis Clark, and many other professionals at the event.
The following morning we visited the Stanley Kubrick and Caravaggio exhibits at the Los Angeles County Museum of Art and spent the afternoon touring the prestigious American Film Institute with SVA alumni Derek Rittenhouse.
.
For me, this trip was the single most fascinating time I've had since deciding several years ago that this would be my career. We returned to SVA inspired and with a whole new perspective on cinematography—truly a trip of a lifetime.