Artist Marketing 101: Art Basel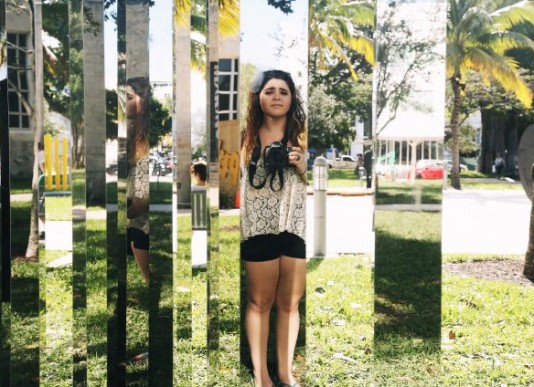 All artists ultimately must face down the Godzilla challenge: Marketing themselves. It's not easy to launch yourself upon the unsuspecting world. How do you make your voice heard over the digital roar? How can anyone see your vision in a Where's Waldo world of media images?
Artist Marketing 101
By Jackii Sovern
Art Basel from an Art Student Perspective 
So, last week while on the job with Absolut Elyx (running their Instagram @absolutelyx), I went to Art Basel in South Beach Miami. As a photo major currently studying at SVA, I was forewarned that attending the shows in Miami might be a bit discouraging, to truly see how much work was really out there all at once, basically the battlefield I am expected to enter upon graduation. However, when I got there, that's not really how it felt. I definitely didn't fit in, but then again none of these artists felt that way at the time of their art's creation either, right? 
Although I spent a majority of my time that week in the vip lounge Casa Elyx at the brand new Miami Beach Edition Hotel on Collins Ave, I did get to see a bit of the artwork Miami had to offer that week. 
First, I'll talk about Art Basel itself. It was like hitting up a million galleries all at once, each with a new layout and different feel. I was so overwhelmed and immediately knew I would never see it all. With only about 3 hours of time to see the space, my friend Jose Silva (@jnsilva) and I started off in one spot and slowly tried working through the maze of the galleries. I soon realized I needed to move at my own pace, and broke away from my friend for a while as I attempted to see as much as possible in the small amount of time that I had.
Below I will show you some of the artworks that most stood out to me while I visited Basel. I have realized that I should've paid more attention to the creators of the pieces, but in my time restraint I was running through this haze of galleries and wasn't thinking right. I am in search for all the right names of the artists and of the pieces. 
  Raise Up by Hank Willis Thomas
  LO XI (flowers) by Jacob Hashimoto
Carrie Mae Weems 
Kitchen Table Portfolio 2003 
20 platinum prints
by Urs Fischer
Next, I visited Design Miami. It was right across the street from the convention center where Basel is held, and much more intimate and less overwhelming than Basel. Each section of Design Miami was a room decorated to look a certain way with furniture and decorations, and appropriate lighting. 
There was a lot more interaction in the works and designs shown at Design Miami, something I personally tend to lean towards. Of course I stopped in the back for some VIP access thanks to Perrier Jouet. 
I didn't get to attend the infamous Wynwood art scene in person, which I hear was one of the best spots to see! Lots of art shows were in Wynwood and I heard it described in relation to the Bushwick underground art scene of NYC. I did, however, get to fly over Wynwood thanks to @nyonair! A 30 minute photo flight around Miami thanks to Paul Barth from Camera Copters. 
flying over wynwood 
There's nothing about Art Basel (apparently) without lavish parties at high end places. Here's some pictures from Absolut Elyx's #CasaElyx, that I spent most of my time in throughout the week. They had exclusive talks with amazing Latin American artists, private martini classes with leading bartender Jack Hubbard, and amazing drinks in these beautiful pineapple copper cups! 
After that brief summary of what I did and where I went during Basel, and after reading lots of articles after about all the events that happened… all I can say is, it's not all it's cracked up to be. At best, it's a lot of people showing up to show off and party because they can. It is definitely a place for art for those truly interested, but comes at a cost of incredibly high Uber surge rate fares, crazy "Art Basel traffic" and ridiculous parties that look like fun via social media but in actuality they're near impossible to get in to! 
The best part of the week, by far, was the ability to connect and market with other people. I met many new and interesting people throughout the whole week, and one thing I live by in this day and age is that everyone you meet is important, they all have a role somewhere and that role can one day be an asset for you. So be smart, be intelligent, talk to everyone you meet and look at every new engagement as a possible open door to an opportunity. If you have an attitude, if you aren't passionate about what you're talking about, you may as well just stop now because there's no room for you in this field, it's all about how you can market yourself to others. You are your own rep and you will be the one to take yourself to new places.