Faculty Friday: Mary Lee Grisanti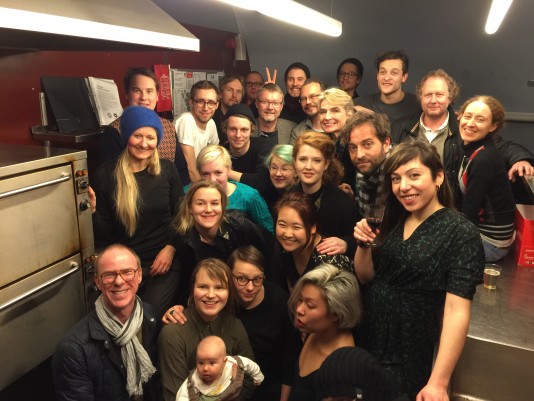 I've written a lot about Building Bridges.
This amazing international educational experience has evolved from inspiring to indispensable as we worked on it. Those in a position to protect the seedling program, stuck with us. We were united in a vision of collaboration as destiny, and process as an art in itself. We faculty – over two years, more than a dozen teachers, from five countries – have brought back this message in our teaching. It's an openness; a desire to go past the limits; a deeper appreciation of what it means to connect.
Our students represent a future of undreamed of creative possibilities in the arts, and the more democratic decision-making processes that heterogeneous, global teams will necessitate. On this site, you'll find reminiscences from students who have participated. The plurality of their voices speak for the program better than I can.
But enough about the program and more about me! Tasked with writing the Faculty Blog for Building Bridges week, I realize the most personal things I've recorded are in letters home – usually written when I was exhausted but too excited to sleep, and somehow always mentioning what there was to eat:
Toolo Torni, Helsinki
I finally have a minute to write. It was another glorious day of work on Soumenlinna, a rocky island that literally seems frozen in time in this weather. The beautiful 18th Century brick buildings are cold, and trudging from place to place on the ice, wearing more layers than I ever have in my life, is exhausting – as is the schedule the teachers have been keeping up, doing planning and evaluating, as well as participating in the same art challenges as the students.
So it was the perfect night to really get why SAUNA is something sacred and essential to Finns.
One of the Finnish women in the program (Sanni, in pink) organized an excursion to the old fashioned public sauna. What a trip! There may be separate men's and women's saunas — but everybody comes out the front door in their towels to sit on the freezing cold wall outside. Old people, young people, weird people — biker guys and the girl with the dragon tattoos. I'm attaching a pic of nearly every female in our group but me! I'm too hot-blooded to stay in such a serious sauna for more than six minutes (the furnace looks like the one in Sweeny Todd) or to go back and forth from the roasting heat to the icy front steps. But everyone else was on their second round trip when I finally decided that I was secure enough to skip karaoke and stopped waiting for them to get dressed. Good thing. I understand the novelty did not wear off for hours.
So I asked directions to the tram stop – and promptly hailed the first cab that went by. Now, Finnish looks like no language you can figure out from taking Latin, so everyone speaks English. Except my cab driver. This is how I discovered there are several residences with the same name as ours – in different parts on the city. My phone had no service; nothing I carried had the address on it. I finally remembered (and was sort of able to pronounce) the name of our daily tram stop.
When he let me out, 45 minutes and 25 Euros later, I happened to be in front of one of the nicest restaurants in the city. It's all 1950's Art Deco and once (20 years ago?) was the place for film people. There I was, cold, hungry and sad for missing karaoke. Divine intervention.
Right now, I am having cream of Jerusalem artichoke soup with wild mushroom mousse! I see crème brûlée in my future. By the way, everyone but me has been eating reindeer.