Building Bridges: Sage Love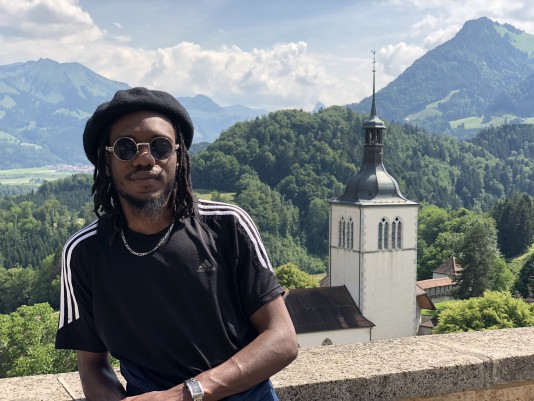 Sage Love writes about his first Building Bridges experience in Zurich, Switzerland. 
Last May, Mary Lee Grisanti ​asked me to participate in Building Bridges, a program that gives students from various educational backgrounds and schools across the world a chance to learn and collaborate with one another and create completely unique works of art. The program meets for 10 days every 6 months for three rounds. Each round begins in a different location, and this first round began in Zurich, Switzerland. I've never been to Europe before, and I try to take every opportunity for a new experience, so I said yes. Mary Lee told me it would be a life changing experience, and she was right. My friend and fellow Bridges student Chad Murdock and I arrived in Zurich two days before the program started, which gave us a chance to explore the city. We ate at Swiss restaurants to see what the local food was like, and walked around comparing NYC apartments to Zurich's. We observed that Zurich is more efficient, peaceful, and cleaner than New York. The only problem is how expensive everything is.
Each day of Building Bridges began with everyone gathering in a circle and logging in. Log in is when we say good morning to the group and briefly about how we're feeling. After everyone says what is on their mind, we move on to warm up exercises. The exercises were my favorite part of the day due to their spirituality, and made everyone feel close to one another. After warm ups, we were paired into groups and began working on the assignments our faculty had created. Each time we were paired into groups it was with students we hadn't yet had a chance to work with. The assignments tested my patience, creative ideas, listening skills, communication skills, and collaborative efforts. Everyone comes from different backgrounds, which meant I had to be patient and listen. Communication is key in these group because everyone has their own unique creative process and vision, so it's important to listen, but also speak up and have your voice heard. Listening is key to having a successful collaboration, especially when there are language barriers. English is not a first language for most Building Bridges students, so it was important to help my groupmates not feel insecure about their English. We created short performances in various kinds of media of our choosing and presented it to the whole group. At the end of the day we sat in the circle again and logged out. Log out is similar to log in except you speak about how your day went and what you liked and disliked.
I learned a lot about myself in Building Bridges, and even feel I've rediscovered myself. I used to do a lot of acting in high school including voice acting and narration for cartoon pilots and commercials, but I stopped once I started college. In Building Bridges I rediscovered my love of acting and voice acting. In one of the assignments we had to create foley sounds and voices for a scene from the animated film Rio. I've trained myself to tackle what I'm afraid of head on and this assignment was the perfect opportunity. The fear of doing voice over again was nerve racking, but I did it anyways. It was the most fun I ever had, and it made me remember how much I love voice acting.
Our first assignment was to write a heritage paper, which was a real challenge for me since I hate talking about myself. I used to think people judged me for my past wrongs and not see how far I've come in rebuilding myself. I shared very personal stories about the struggles my mom and I dealt with in Haiti, my own struggle adapting to American culture, discovering who I am as an individual, and how all of those obstacles helped me find my purpose in life. I never thought it would inspire my peers and teachers, I just told my truth unapologetically.
There were two highlights from my trip outside of Building Bridges. The first was when our professor Mark Crowell took my friend Adriano and me to Gruyère, to visit the H.R. GIGER MUSEUM. It took us three hours to get there by train. On our way there we saw mountains, lakes, and the agriculture lifestyle. When we arrived at Gruyère, Mark told us it was an 18 minute walk up a mountain just to get up to the museum.
Inside the museum we saw artwork and visual props made by H.R. Giger, the creator of the titular monster in Ridley Scott's Alien. We saw his other artwork and designs for other movies and personal works he did for himself. I also learned about his life, and how he used to live in Zurich.
The second highlight was on the last day of the trip. Chad, Alicia, Adriano and I decided to go to the lake. We all took a swim in the water, talked about our experiences in Zurich and shared beautiful memories from our childhood. It was a nice ending to a challenging experience that tested not only our artistic abilities but the ability to adapt to a new way of life for 10 days. I took a moment to document some boats going by and the people near us. In the moment of looking at the sunset, surrounded by good vibes from my peers, I took a moment to reflect how far I've come and realize Mary Lee's words manifested in this trip. Indeed it was a Life changing experience.