Award-Winner Brittany Brothers Goes to the Amazon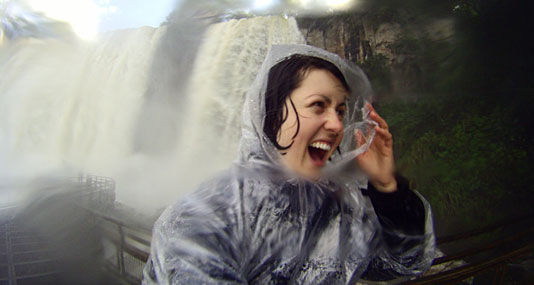 Real truth is captured in spontaneous moments. I took this photo at Iguaçu Falls on the border between Brazil and Argentina. The water flow was the heaviest seen in 100 years, so most people were too afraid to walk on the pier extending out to the falls. I was beckoned by their roar, though, and rushed out to face them! I snapped this picture with my GoPro mid-run back to the trail, completely drenched despite the poncho. Whenever I look at this photo, I'm instantly brought back to that exact moment — wet hair plastered to my face, the sticky plastic poncho crunching in my ears, and the thundering of the waterfalls behind me. I can't help but smile at the look on my face because I know that this is the most genuine moment of myself ever captured. At the urging of my mom, I submitted the pic to National Geographic Traveler's World in Focus Photo Contest and won the grand prize — a 10-day trip to the Galapagos Islands. At SVA,
this curiosity and zest for life manifested itself in the form of short documentaries with quirky characters who have carved out their own niches in the world. My senior thesis film, Shag Nation, chronicles the past, present, and future of the Carolina Shag dance and the rather eccentric yet charming subculture that surrounds it. Though I grew up in the South, I was only recently introduced to the Shag several years ago. My mom brought me to a Shag event and, boy, I could not tear my eyes away from those wild and crazy feet! The more I learned about the Shag community, the more I knew that their stories needed to be heard. Beginning in the spring of my junior year, my crew of three fellow students and I traveled down to North Myrtle Beach, SC three separate times over a period of six months to capture the soul and camaraderie of these Shaggers through music and dance. Six months later, with the help of a post-production grant from SVA, Shag Nation premiered at the Dusty Film Festival in May 2011 and received the Human Spirit Award. Since then, Shag Nation has been chosen as an Official Selection for the Beaufort International Film Festival, Myrtle Beach International Film Festival, Toronto Beaches Film Festival, and ReelHeART Film Festival. As a student, I not only worked in the Final Cut Pro Editing Lab all four years of school but also held an internship for two semesters at Zero Point Zero Production, Inc., an Emmy-winning production company specializing in verité-style travel and food television, such as Anthony Bourdain: No Reservations. With a semester left of college, I was hired full-time and continue to work there today, occasionally getting the opportunity to travel! My approach to filmmaking has always been that it is not just a tool for entertainment but, more importantly, education. Outside of work, I volunteer as a videographer for a non-profit called She's the First, which sponsors educational programs for girls in developing countries so that they can be the first in their families to graduate from high school. Recently, I co-produced and edited their newest PSA. A collaboration of footage from both our sponsored girls abroad and our volunteers in the US, the video aims to create a cross-continental, digital dialogue between these girls, presenting them as global ambassadors. Within the first month of being live, the video garnered over 1,000 views, moving people to share it within their social media circles and promoting worldwide education for women. In the near future, I plan to visit one of their sponsored schools in Nepal. I hope to continue to travel, learn, and tell
stories through the lives of others and inspire people to do the same.