SVA Women Strong: Joan Brooker-Marks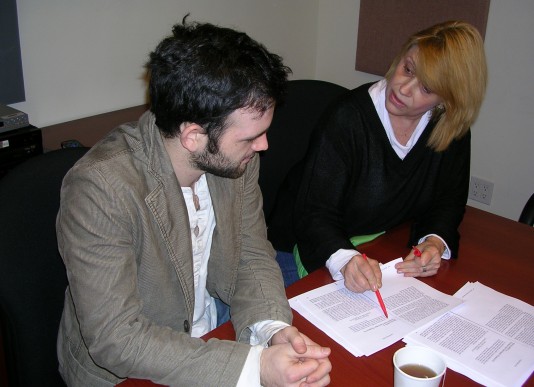 SVA Film and Animation has a long history of supporting women – for example our decade long partnership with New York Women in Film and Television. This year, we are making a special commitment to something we deeply believe: SVA is THE school for women who want to work in these industries.
Last week, with the Women in the Arts and Media Coalition, we presented SVA WOMEN STRONG, a celebration of the work of five young and accomplished alumnae. Two narrative films, two animated films and a documentary – award-winning all – followed by a panel of extraordinary women.
The SVA WOMEN STRONG event could not have been as successful without the efforts of long-time faculty member, writer and documentarian, Joan Brooker-Marks. Now that she can catch her breath, we asked her why it was so important to her.
I felt it was important to communicate to our student body that SVA is a great school for our young women. I also realized that many students were unaware of the incredible work these alumnae had done during their tenure here, and that so many have gone on to great success.
We had a wealth of material to choose from, all equally compelling, so it was difficult to decide which films to screen. The films we ended up with seemed to complement each other, and were culturally very diverse. But we could have easily chosen five different films that would have worked just as well.
We were very lucky in our panelists. People are busy and Sundance started the day after our event. But wonderful women showed up for us. My goal was to create a conversation that included working women who represented a wide swath of the entertainment industry: producers, directors, documentarians, alumnae, cinematographers, writers, etc. All of our panelists were that and more – most demonstrating skills in multiple disciplines.
It's very important that women learn how to negotiate the terrain in an industry that is basically male dominated. Most of us experience some form of sexism on a continuing basis both in our professional and personal lives. Women need to know when to push back — and when to let it go. A sense of humor helps. I think our panelist, Rachael Levine said it best: "you just kind of have to roll with it." Another panelist, Laverne Berry, also noted that it's not an "either/or" situation – men can be our greatest allies. That was certainly true for me when I was first starting out. Conversely, some women can be difficult to work for.
I've always believed that another woman's success is my success – another step forward. Events like this serve to confirm that. I think SVA WOMEN STRONG spoke to our young women and reinforced our sense of community – we are all in this together.
For young aspiring women filmmakers, SVA provides the space and encouragement that allows them to tell their own individual stories – together. To me that is the single most important thing we can provide.