Faculty Blog: Mary Lee Grisanti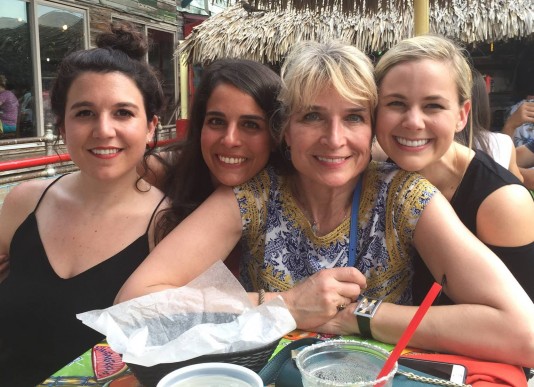 Above: Mary Lee, flanked by (L to R) Callie Barker, SVA MFA Art Practice '15, her daughter, Rebecca Benson, now in SVA MFA Soc Doc, and Melissa Dannett, an LA lawyer. Maybe you'll need one some day….
Writer and teacher, Mary Lee Grisanti, talks about the new day – new life – that is dawning for writers in digital media. And you are going to feel good!
HOW TO GET YOUR FIRST WRITING JOB:
There has never been a better time to be a writer. The proliferation of digital platforms demanding more and more content is like a school of sharks circling every company and individual with a brand (Branding is the art and science of having an identity that sticks out of the information overload. Essential if you want to make money.) To succeed – to survive – brands have to feed those sharks – and, as we all know from JAWS, sharks are eating machines.
CONTENT = SHARK FOOD = WRITING
There are many, many ways to get a job writing content online – and social media is the easiest.
ADVICE: Your employer wants to know that you are on the platforms you're going to be writing for. They'll want to know that you spend time reading stuff, know what was all over Facebook last week, etc. Bonus points if you are following Instagram, are a photographer, can Photoshop, have followers. Double bonus points for video skills – can you edit? Make GIFs? Cinemagraphs? Do you know who the influencers are in a given field? Are YOU an influencer? (I have had more than one student making nice $ while in college because they were big on Instagram.)
Do your research on the company you are applying to. Look at how they present their message. Try writing a few things in their style. You might be the best and brightest person for the job, but if you don't know how they see themselves, your learning curve may seem too steep to invest in.
Don't discount anything about yourself. Might they want production skills? Then you're a better candidate. Photoshop? Data knowledge? Don't let data scare you. You can learn a lot just by searching the Internet. Much of what you will do involves "curating" things of interest to your employer's audience, so you might as well get good at it.
You need writing samples. Start blogging now if you haven't. You can blog anytime on our own department website, filmandanimation.sva.edu. (Triple bonus points if you have been "published" by someone beside yourself, hint, hint.) We run at least three first-person stories a week; we also do features on writers because when would you get to see their work? Email me: maryleegrisanti@gmail.com
THE BEST ADVICE EVER: Don't work for free. Keep looking
OTHER BEST ADVICE EVER: Never miss a deadline.
The next rung on the ladder of digital writing jobs splits off in two directions – 1. Production(fantastic if you really want to direct) and 2. More evolved writing/scripting/blogging/(dare-I-say) journalism. More about that next time – meanwhile make sure you have some writing to show. Once people know you are a proficient writer, you will be in demand.
TAKE HEART: Writers are so in demand that freelancers at shops like Gawker, Huffington Post, Guardian U.S. and Salon, have actually unionized. Hello, WGA!
Here is a list of sites that are good for writing jobs in general and social media in particular. Sometimes I added an actual page – relevant listings, or a sample job.
LinkedIn asks you to make a profile (most do) and that can really help because then people come looking for you. I would look at the jobs that interest you most, and describe yourself in specifically those ways.
The last listing (simplyhired.com) has some good advice about entry-level jobs.
http://www.mediabistro.com/jobs/openings/social-media/
https://www.linkedin.com/jobs2/view/101374542?trk=job_view_browse_map
http://www.buzzfeed.com/about/jobs
http://gawker.com/careers/job/119864?gh_jid=119864
https://www.looksharp.com/s/social-media-entry-level-jobs/new-york-ny
http://www.simplyhired.com/search?q=social+media&l=new+york+city,+ny&mi=10