Faculty Blog: Sherese Robinson Lee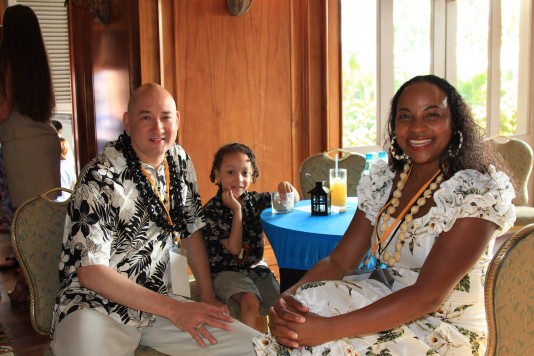 Sherese Robinson Lee's film, Clean Woman, is screening on October 1st at 6:50PM at the Chinese American Citizens Alliance of Greater New York Mid-Autumn Film Festival. To recognize and promote the role of Chinese Americans in the dialogue of filmmaking and culture, CACAGNY is pleased to launch the CACAGNY Mid-Autumn Film Festival.  Films screening will be accompanied by discussions with filmmakers and historians over September 30-October 1, 2017 in Chinatown, New York, NY.
Love Life of an Asian Guy
My short film Clean Woman is screening at the Chinese American Citizens Alliance film festival. Clean Woman purposely has an Asian-American male romantic lead. I specifically wrote the film to cast an Asian-American lead. My husband is half-Chinese and half-White by way of Hawaii, Alabama, and Queens—Holliswood in da house!
I want my son to see couples in love on screen, who look like his mommy and daddy. There aren't many. Between mainstream TV and film, I can count on one hand the number of fictional AM/BW romantic pairings. There's Jim and Jacqueline in Murder in the First (basic cable TV – 2014); Shiro and Allura (rockin' blonde hair) in Voltron: Legendary Defender (streaming animated TV – 2013); Riazo and Mika in Ninja Assassins (international studio film – 2009); Demitri and Zoey in FlashForward (network TV – 2009); Sam and Shakira in The Motel (indie film – 2005); Michael and Terri in Barbershop: The Series (cable TV – 2005); Val and Nina in Torque (studio film – 2004), Han and Trish in Romeo Must Die (studio film – 2000)— they didn't even get one kiss because Hollywood stays on some B.S.; Sap and Nina in Catfish in Black Bean Sauce (indie film – 1999), Julian and Karyn in Fakin' Da Funk (indie film – 1997), and my personal favorite, Prince Christopher and Cinderella in "The Wonderful World of Disney" Cinderella (network – 1997). Okay, I lied— a whole two hands. ~blank stare~
When my husband and I got engaged in 1997, everyone was calling us to tell us to turn on Cinderella because "Sherese and Randy are on the TV." And, I was wearing blonde box braids at that time. (See picture) Of course we were already watching it, along with my two Black sons from a previous relationship
My short doesn't break new ground or tell a highbrow story that indie-filmmakers are so fond of telling. It's simply serves as a vehicle for an underrepresented group. My actor, Lee Way Lan, is playing a role usually reserved for white men—the boyfriend. Rarely do we see Asian actors portraying the boy next door, the charming anti-hero, the sexy tough guy, the moody hothead, or the wealthy bad boy. Asian male characters are usually "Long Duk Dong" or "Mr. Miyagi". Or, as my husband likes to say— "they're either delivering food or know Kung Fu."
Clean Woman ignores the prevailing Asian foil and instead showcases a character who encompasses masculinity, swagger, and charisma.
P.S. My short is titled Clean Woman because the Mandarin characters for clean and beautiful are often mistakenly interchanged in romantic literature.
Sherese Robinson Lee is an award winning writer, director, and teacher with her short films featured at over 20 film festivals internationally. She was a writer at ABC's Daytime series All My Children and Port Charles. She's currently producing the Dia&Co–sponsored digital audio soap opera Sugar. Listen here: https://goo.gl/iqPsMP
Pronouns: she/her/herself
Blog:               https://goo.gl/iqPsMP
LinkedIn:         linkedin.com/in/shereserobinsonlee
Ense & Twitter: @ShereseLee
Vimeo:                         https://goo.gl/GhqB4