Faculty Friday: Manny Kirchheimer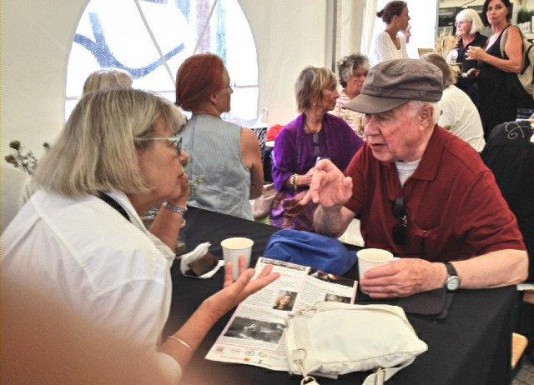 Manny Kirchheimer is having quite the year. His film "Stations of the Elevated" was restored after 31 years and his work is being feted everywhere – most recently Sweden, where he premiered his newest film, "Discovery in a Painting." Here, news from Sweden's "Small Film Festival;" and an update on the many Manny celebrations continuing to manifest….
I've always enjoyed being in Sweden, where I had shown films at the Gothenburg International Film Festival, Scandinavia's largest, on three previous occasions. This year, with two new films (Canners, and Discovery in a Painting), I thought I'd try my friend Ulf Bergrren's, "The Small Film Festival," in Bastad Sweden, which was started by Bo Widerberg (Elvira Madigan).
When I announced my intention, he unhesitatingly invited the two films and another (We Were So Beloved) for this year's festival, from which I have just returned. The films played to enthusiastic full houses. Lengthy Q&As showed great interest and insight by these attentive, thoughtful audiences, a tribute to Swedish cultural life. The most recent film, Discovery in a Painting, examines Cezanne's Still life with Apples for half-an-hour without virtue of a human voice that might help the audience along. It's not an easy experience.This audience seemed to eat it up. It was an altogether exhilarating experience.
Documentaries are about everything. It's all there for the taking—cheap. No sets, actors, foreign locations. If not much travel is involved, all that's needed is a camera, lights and an editing system. What a wonderful way to make movies of significance. My school, The School of Visual Arts, supports this movement with a full-fledged documentary program, to which a Masters Class in the Documentary will be added next Fall (led by yours truly). I've been doing docs for decades and still love it.
KIRCHHEIMER UPDATE 8/22/14:

Stations of the Elevated from 1980, the first film documenting the New York subway-graffiti phenomenon, had a first showing of its HD restoration at BAM's 834-seat Harvey Theater in June, to a sold-out house, rave reviews (Times: "Achingly gorgeous"; Voice: "A masterpiece"), and sustained applause. The film went on to a full house at the Museum of the City of New York, and, together with a half-hour film, Claw (1968), will open for at least a week in October at BAM's Cinematheque. The program will then travel to independent cinemas across the country, often with the filmmaker in tow for Q&As.
Also in June, two older films, Short Circuit (1973) & Bridge High (1975), opened the Northside Festival; now they will be digitally restored to HD, and open at a theater next winter.
In early August, a new film was completed, Discovery in a Painting, which together with another new film. Canners, premiered at a Swedish film festival. The filmmaker accompanied the films, which were a standout success with the audience.
To learn more about SVA's Documentary Program click here.
To learn more about SVA's Documentary Program click