Flip Sarta Reports From Animation Anarchy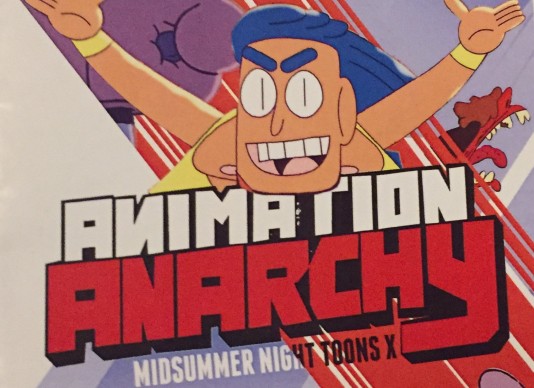 Flip Sarta (BFA Film 2020) reports from this year's Animation Anarchy: Midsummer Night Toons X (July 20th, 2018). Midsummer Night Toons is a yearly free screening organized by animation alumnus, Matt Lee (BFA Animation 2005), that showcases new animated shorts! Flip reports about the night, the films, and how deeply animation can affect a person. 
Last week I had the pleasure of attending Midsummer Night Toons. The event's tenth year, titled Animation Anarchy, had an impressive lineup of awesome shorts. With an overabundance of friendly faces, talented artists, and good vibes the night surely did not disappoint.
All of the films were a whole lot of fun, but more than that they made you think. Floatland by Victoria Vincent stood out to me especially. The film is about a young person who plays an RPG video game to escape from her existence. The tendency to use games like this to escape the negative in our life or to cope with depression is so common among people my age. What impressed me the most is how beautifully the film captured this feeling. The film hit home and has been stuck in my mind since.
Animation is such a special medium that can convey so many different ideas and stories; with no restriction except your own mind. Two short minutes can bring you to tears or leave you analyzing yourself for hours after it's over. Each film is a small peephole into that artist's mind. A culmination of their inner thought and experience given form through a labor of love.  A film blooming with self-expression or drama or comedy or action – anything! What could be more exciting? Every artist comes from somewhere different, and every person in that audience does as well. Everyone has their own unique experiences and yet we all came together and shared the night watching some lovely toons. To have a night celebrating these works, the artists who make them and the art form itself is a real gift and I'm glad to have been a part of it.
Before I wrap up I would like to give an extra special thanks to Matt Lee (BFA Animation 2005) for making such a delightful night possible. It takes a lot of time and effort to get a night like this coordinated and ready to go, so thank you very much! Also a big thanks to all of the artists and storytellers who took part this year! You're all amazing!
Below are all films screened at Animation Anarchy: Midsummer Night Toons X.            I would completely encourage that you check them out!
High Crimes Cartwheels – Georgia Kriss
Love Nest – Remus & Kiki
Penrose – Kris Stanton
Tido – The Commonist
Tempo – Angela Arzumanyan
Crow – Sonja Von Marensdorff
Floatland – Victoria Vincent
A Long Way From Home Andy Tai & Eduardo Enriquez
I Should Really Go Home – Ben Lucas
Cereal Prize – Matt Lee
Flex Calibur – Chris Burns, Bob Fox, Gary Doodles & Tommy Sica