Introducing The Magic of Animation, starring Mario Menjivar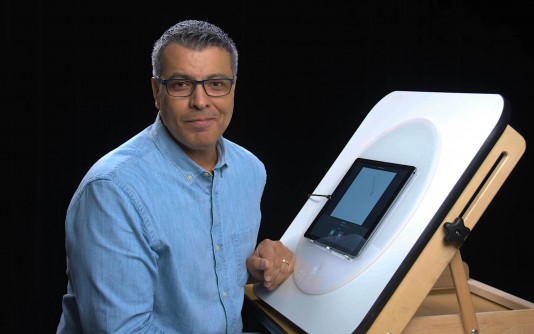 As a studio animator for Walt Disney Features, Mario Menjivar's work has been featured in some of the most iconic animated films of all time.  Now with The Magic of Animation, Mario will walk you through how to have a blast creating your own animations by using the elegantly minimal Animatic app.  Overall, there are 8 lessons in Season 1. Episode 1 features a lesson on how to create a bouncing ball and a pendulum, two of the foundations of animation. In Episode 2, Mario teaches the walk cycle and anticipation via step-by-step instruction. Episode 3 features Mario teaching the concepts of overlap and follow-through, as well as the concept of secondary actions.  In the 4th and final episode of Season 1, Mario teaches you how to animate with exaggerations, as well as how to tackle the task of animating with a straight-ahead approach. You will be enjoying your first finished piece in no time!
Mario Menjivar:
Anyone in the world can be an animator!  I wanted to help you tap into your creativity, and to teach all the things I've learned from my time at Disney working for and with the greats!  Now with the Magic of Animation, and Animatic, anyone can pick up the principles of animation and start animating, immediately.
The Magic of Animation is available online to purchase through Amazon with no interruption, or to watch for free on YouTube and Amazon Prime.  Animatic is freely available in the App Store as well as from Google Play.
The Bouncing Ball and The Pendulum
Mario demonstrates two foundations of animation: a bouncing ball and a pendulum.
Language: English Runtime: 19 minutes
The Walk Cycle and Anticipation
Step by step, Mario animates the basics of a walk cycle and shows how to turn anticipation into animation.
Language: English Runtime: 25 minutes
Overlapping and Follow-up and Secondary Action
Mario covers the intertwined techniques of the overlap and follow-up as well as the concept of secondary actions.
Language: English Runtime: 15 minutes
Exaggeration and Straight Ahead Animation
Mario goes above and beyond animating the notion of exaggeration and shows the dive right in approach of straight ahead animation.
Language: English Runtime: 18 minutes