Legendary Animator Floyd Norman at the SVA Theatre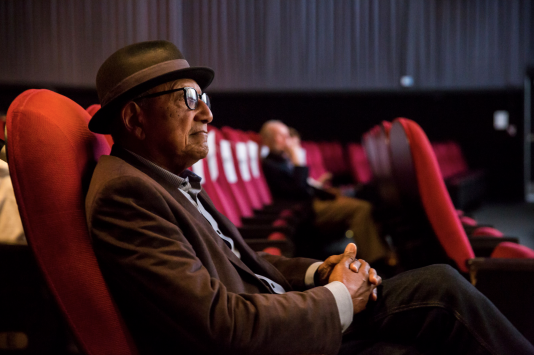 Last week, Floyd Norman attended a Q&A at the SVA Theatre following a screening of the new film Floyd Norman: An Animated Life. Floyd's work as an animator, writer, and comic book artist at studios such as Disney and Pixar is known by everyone in the animation community. He is truly an animation legend. Here, Mark Minnig writes about attending the screening.
BFA Animation faculty Mario Menjivar and Howard Beckerman had the incredible opportunity to host a Q&A with Floyd and his wife Adrienne after a screening of the new documentary Floyd Norman: An Animated Life. Floyd is still active in the feature animation world and Adrienne is currently an illustrator at Disney and oversees artists for Disney's books.
Floyd and Adrienne spoke about their very different experiences in the animation industry. Floyd found constant encouragement to pursue his artistic career, but Adrienne was constantly being discouraged throughout her academic career to follow artistic endeavors. Their combined successes reflect the drive and determination it takes to achieve your dreams. Floyd and Adrienne told us how they are always learning, creating, and meeting challenges as they are presented. A perfect combination of traits that brought these two together at Disney Studios.
Floyd and Adrienne agreed it is necessary to learn the craft, be observant, take risks, and poses an enormous amount of perseverance – despite having differing experiences in the industry. Norman stressed learning all aspects of art, from perspective, composition, and fundamentals of drawing, principles that apply to animation as well as observing the world around to inform storytelling, as well as, art. Both took risks, learned to be flexible, and were able to persevere as they navigated their careers. At 82 years old, Floyd Norman, finds it extremely important to keep learning and embrace new technical tools as to encourage people to always stay current.
Students and guests were invited to ask Floyd and Adrienne about their different experiences working in their respective fields. Thoughtful, candid, and honest answers went well into the evening, extending the event with invaluable information about what it takes to stay passionate about the process of making lasting art.
I think we all walked away feeling that success is directly related to hard work, care for your craft, knowing one's value as an artist and being flexible within a creative community. Both Floyd and Adrienne's experiences were inspiring to all in attendance.