Maren Ade: Toni Erdmann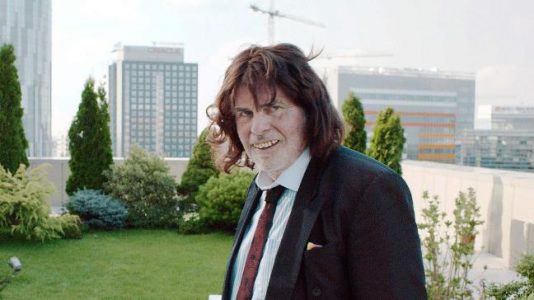 Francisco Fontes reviews Toni Erdman, from writer/director Maren Ade, at the New York Film Festival. It opens in wide release this week.
Maren Ade hasn't made a movie since her 2009 Berlin Silver Bear Winner Everyone Else. But since then, she has kept herself occupied by producing other director's works, including a personal favorite of mine, Miguel Gomes' Tabu. I can only image that this seven year gap also illuminated her own work, for she came back with the sensational Toni Erdmann, that has been gathering awards worldwide since its premiere at Cannes, where it took everyone by surprise. The movie has kept its aura of awe since then, and tonight I got to understand the reason why.
It is hard to say what this movie is, for it could fit in many different categories, and talks about a vast variety of themes, always satisfactory. For that same reason, I might comment a little more than I usually do about the movie's plot. I'll try to be gentle, but spoiler-phobics be aware.
At its core, this is a movie about a father and his daughter. Anywhere in the world, this relationship can be extremely complicated, and the family here is no exception. Clearly disconnected, and with seemingly nothing in common, Toni Conradi and his daughter Ines seem to live in different worlds. And to some extent, that is a fact. While he is in Germany, she lives in Romania, working on a big consulting firm. But learning how to reconnect is as important as any other aspect of a relationship, especially one as close as a father and a daughter. And as hard as it might be, the effort is worth it – family is the only thing that can bring you back to you.
But what makes Maren Ade's work so special is how unconventional it is. She approaches this difficult theme with a large dose of absurdity, and it is through this absurdity that the characters learn to understand one another. From the very first moment, we learn that Toni is fanatic for pranks – and he uses them for his own amusement. The practical jokes sometimes are unnoticed by its victims, but the laughs will always be with him. At the same time, we learn he is extremely lonely. Apart from his daughter's growing distance, his companion dog dies, and his piano student (most probably his last) quits – all in the same day. With nothing to hold him in Germany, Toni flies off to Romania, to his daughter's surprise.
Once there, Ines is quick to ask him how long he is staying. "I took a month off" her father says, causing an immediate reaction of fear from her. He tells her he is joking, and leaves by the end of the weekend. Except he doesn't. Soon, Toni reappears as his prankster persona, Toni Erdmann. From this moment forward, Toni appears to be everywhere Ines goes, and the audience starts to expect him to show up at any second. At first his presence feels like torture, disrupting Ines' work, and seemingly ruining any chances she had to improve her life. We start to think, much like she does, that her father is malevolent. But little by little she gives in, and finds in Toni Erdmann who she was looking for in her father. Barriers starts to break, and the more senseless it all gets, the more personal and tender it becomes.
Ines is extremely hard working, and while her position is an important one, and the deals she can bring for her company are of great value, no one seems to respect her – as a woman, or as a human being. "Are you really human?" her father asks at one point, and immediately regrets it, for he know she is, and knows how important to her it is to feel like one – as it is to all of us. But humans and monsters can also be family, as we soon learn. Good or bad, Toni Erdmann has a profound effect on everyone, and for Ines, it is a deeply significant one. From him she learns how to live, how to enjoy life, and how to let go. In two specific scenes, we see her get out of her hard shell, and show her true self – one that is surprisingly (or not) like her father.
At one point in the movie, from up in her office's high rise, Ines looks down and we see a clear division between the modern, secluded and rich Bucharest, and its poorer, simple neighbor – the same Bucharest. These two realities are divided by a wall, and while they belong to the same land, and its people are the same, they could not be further apart. It is a symbol of the world we live in, and the problems that we face, but also a symbol of the two realities that the characters inhabit. It is one shot, that lasts a few seconds, and yet it says so much. By not losing the humor, we need to take down the walls – even it takes us one brick at a time.